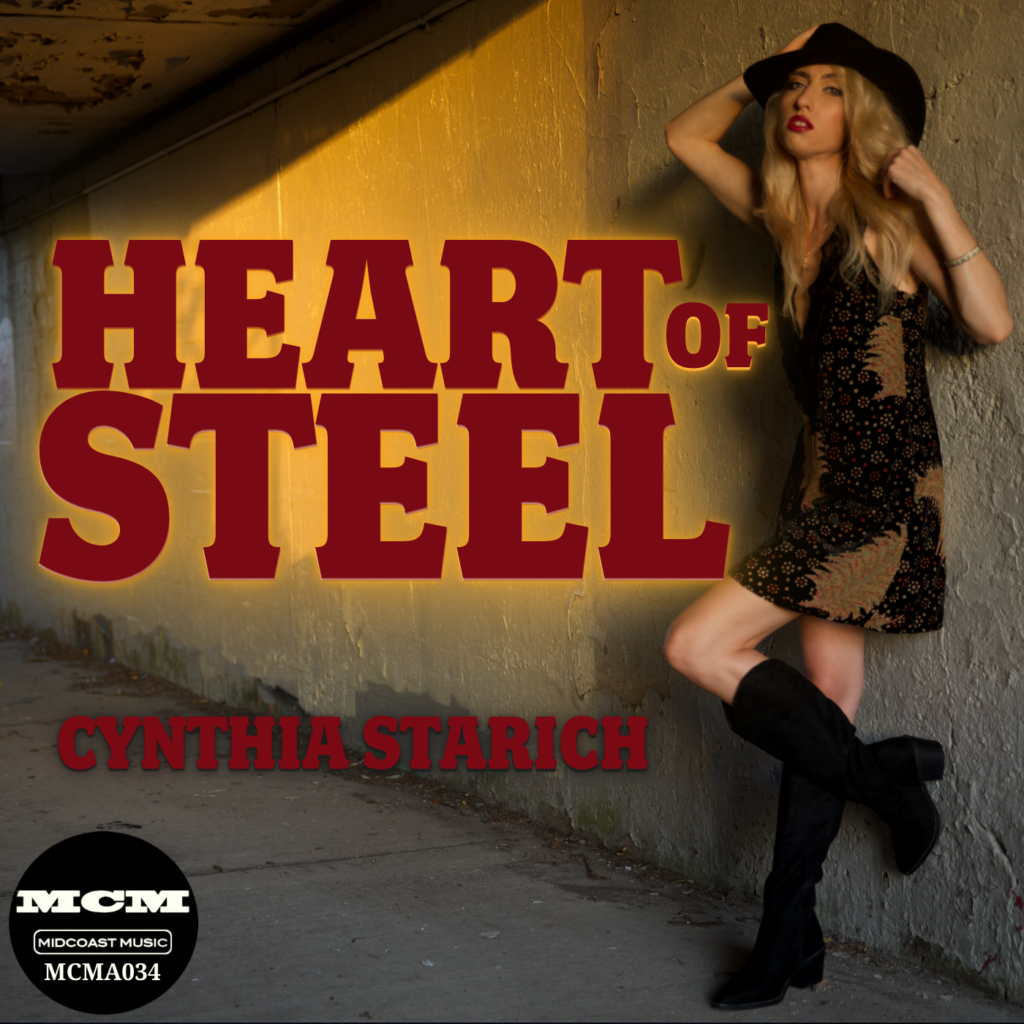 LISTEN NOW
Heart of Steel
Cynthia Starich's raw vocal power combined with her signature comedic realism are delivered over an eclectic mix of hybrid genres, blending classic elements with modern undertones. The album was released on October 28th 2022 under the award-winning Midcoast Music label, featuring long time mentor, co-writer and producer, Chris Hanson.
Listeners are emboldened by the unapologetic grit of classic Stratacaster guitars, analog synths, and sophisticated drum work with the occasional 90's retro throwback element. The album has an infectious rebellious rebel-rock spirit with a sarcastic yet uniquely modern western undertone.
Heart of Steel was released on October 28th, 2022 and is available for licensing exclusively at Warner Chappell, a division of Warner Brothers for international distribution for placement in TV, film, and media.
Track List
Tough Girl
Heart of Steel
I Don't Look Back
Written In Red
Running Away With Your Love
Why Are All The Good Things Bad
Say What
Bad Boss Now
Bad Vibe
Miss Behave
Tough Girl – Heavy, punchy, attitude driven synth bass and rock guitar riffs set the stage for this tough girl on the run. She makes zero apologies for turning out tougher than diamonds because determination is her middle name.
Heart of Steel – Epic power blues rock ballad pours out the caged rage of keeping a heart of steel when the grim reaper of a past flame comes back to haunt. Inspiring heartfelt vocals call and answer with creamy bluesy guitar riffs. An acid-trip inducing bridge section beckons to the Whole lotta love Zeppelin era.
I Don't Look Back – Delete the chat with confidence in this big beat power pop-rocking affirmation of new-era "NO". Grimy vinyl grooves, funky wa wa guitar and bass bring together 90s electronic dance music with classic blues rock. For full effect, blast at ungodly volumes with the windows down.
Written In Red – If you're sexy and you know it, sing along: This sassy eclectic Afro-Cuban groove with a Latin sound combines rock blues and jazz. Revealing red-lip secrets through playfully seductive vocals and classic rock sustaining guitar.
Running Away With Your Love – Rock the Billies but never let em catch ya! She's a sunny day with a 100% chance of rain in this rebel – rocker that slaps back. Fun 50s style starts and stops with Tele chicken picking solo at 1:37.
Why Are All The Good Things Bad – Bust out of jail with class in this finger-snapping bluesy-swing shuffle. A playful storyline encompasses authentically sourced acoustics with a deeper lyrical perspective by the last verse: "I've got a mirror looking at me, smiling as tears fall beggin' me to shake it free."
Say What – The hip-hop jazz standard we never knew we needed: Be-bop electronica hybrid featuring electric guitar through a Leslie playing the head. The musical embodiment of staying grounded amongst gossip.
Bad Boss Now – Funny how things have a way of flipping. The red tailed angel walks out in style as it all burns down in the distance as they never saw it coming. Fretless bass sets the scheming mood leading to multi octave power chords slamming like an anvil at 43 seconds when the bad boss gets their comeuppance.
Bad Vibe – Intuition never lies, yet somehow red flags become so easy to ignore. Epic vocal, guitar and strings ballad with soaring vocal and guitar lines. Dark ominous build to a passionate peak at 4 minutes. The lone guitar arpeggios book end the intro and outro.
Miss Behave – This is the story of Miss Behave. Can you relate? Creepy church organ, haunting orchestral guitar and heavily effected percussion tell this murder mystery in an unapologetic way.
Play With Fire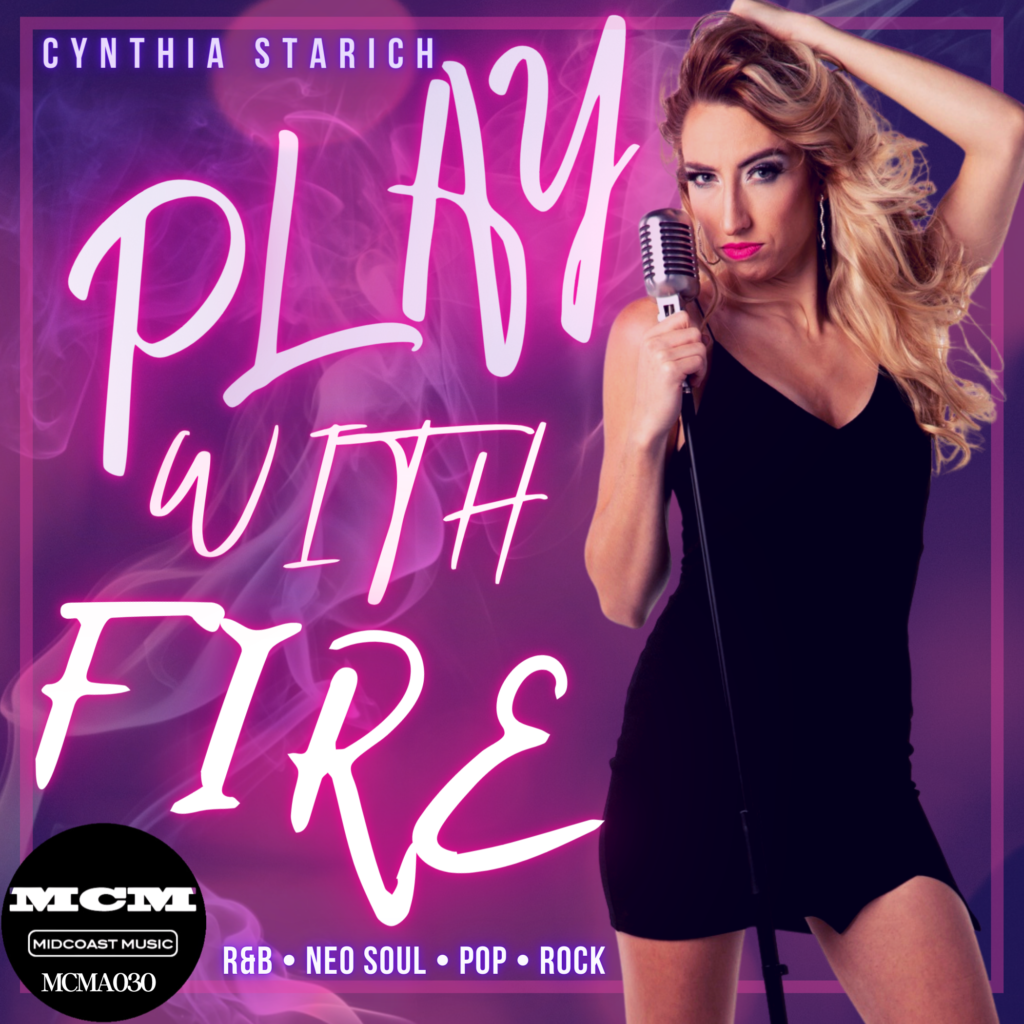 Play With Fire
Starich's debut album, Play With Fire, was released in November of 2020 under the Midcoast Music label. The collection of songs features a variety of soulful blues pop-rock tunes with notable tracks such as Love's On The Rise and Bad Guy, and title track, Play With Fire. The album was released for exclusive distribution for TV, film and media and has since been featured in a variety of international live performances and television series.