Heart of Steel – ALBUM OUT NOW!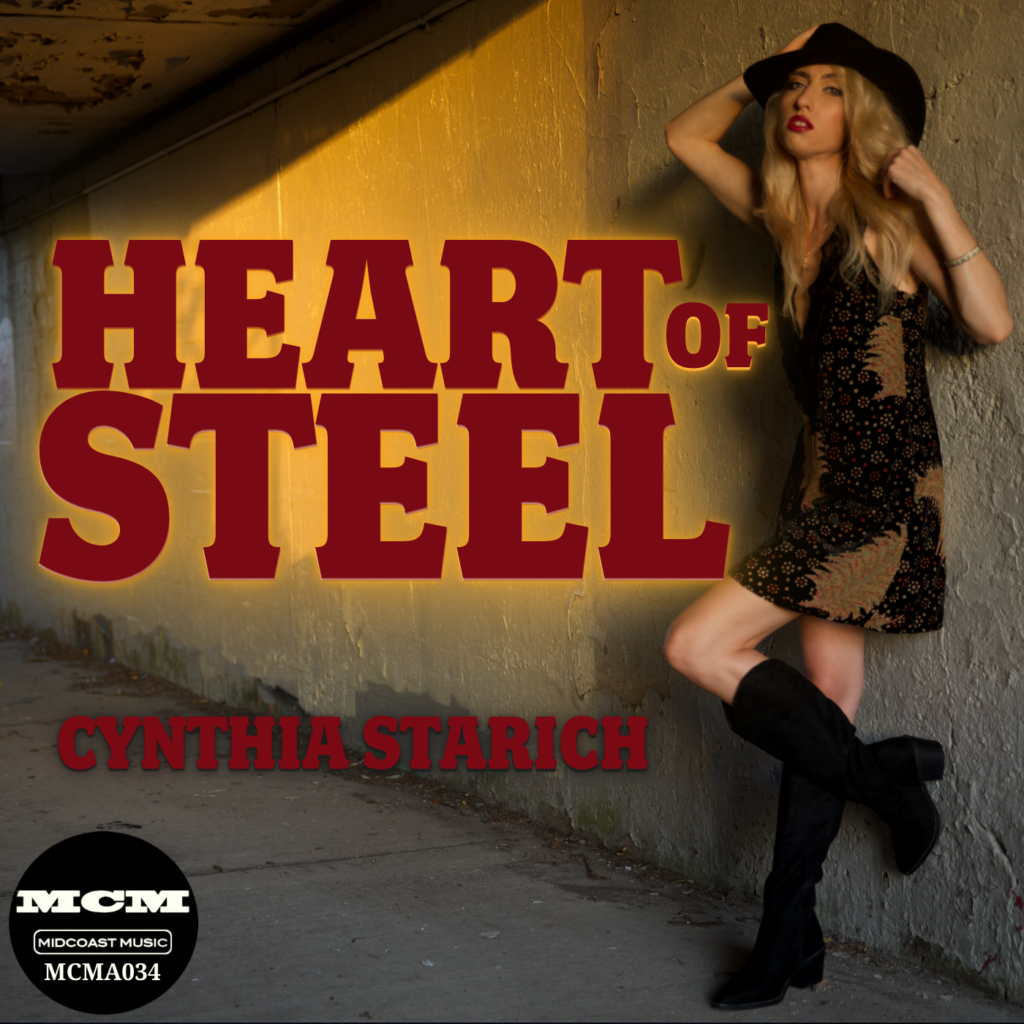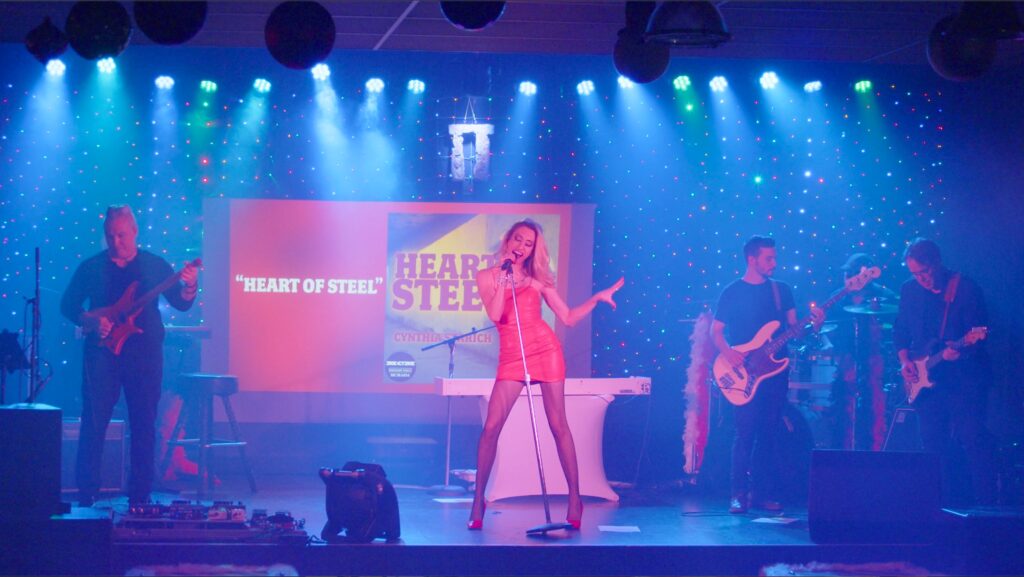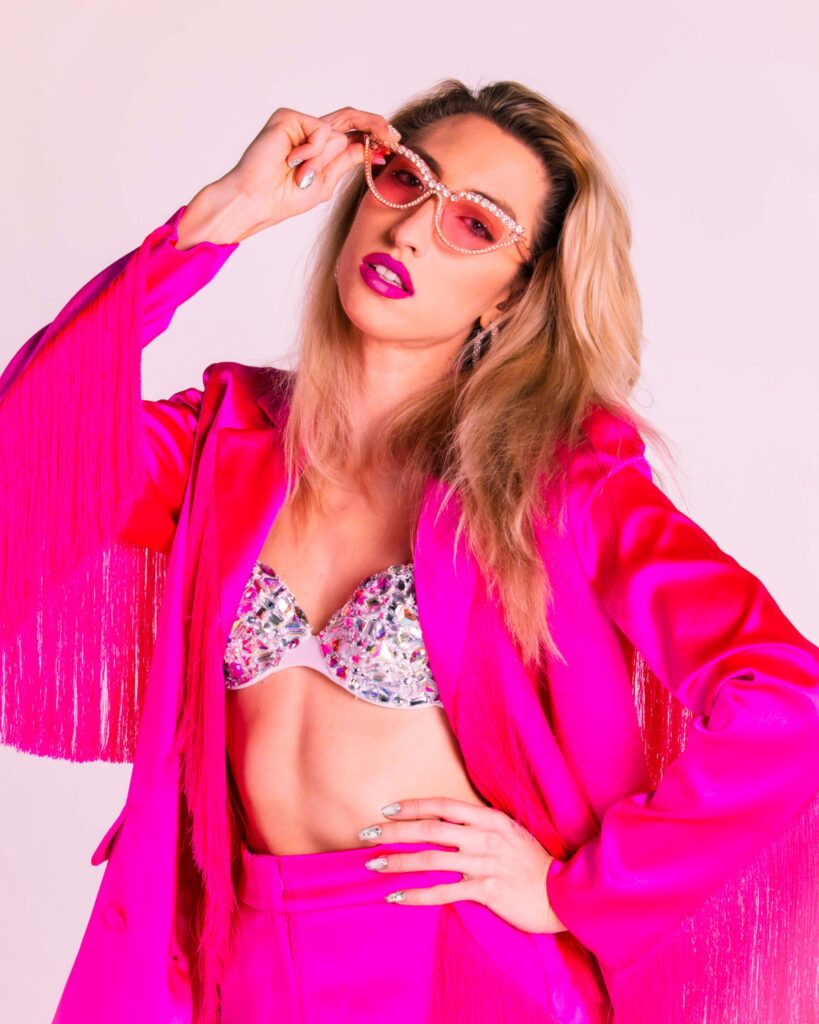 NICE TO MEET YA
Maybe I've seen you decked out in cheetah print at State Fair with my band in Totally Neon, doing high kicks together at the foot of the stage. If so, you've seen me get my tentacles twisted in strange props while trying to make phone calls to Blondie on my transparent, totally-not-functional telephone to absolutely no avail. (Also, I found a family of spiders living inside of it. YUM!)
OR
Maybe we screamed our lungs out together singing BORN THIS WAY at PrideFest in my Lady Gaga Tribute Act. You were losing your voice, I was losing my wig, but together we were hanging on a moment better known as the Edge of Glory!
And now we're HERE! Welcome to my most intimate space–where the wig comes off and the neon lights fade into the warm glow of a single spotlight on my original music. So many of my journal entries have taken shape into power anthems, blues-infused pop tunes & outlaw rebel-rock bangers bound to get us shuffling to the song of leveling up our standards. I can't wait for you to sing these with me live with my new band, Cynthia Starich Ft. Chris Hanson & The Gang!!
THE SECRET PLAN
I love absorbing every style of music I could get my ears (and tentacles) on. I've sung a LOT of different styles–from hair metal to dramatic opera, jazz standards to Lady Gaga, or whatever crazy backing vocals Pat McCurdy needs on his next release–I'm down for the challenge. Absorbing so many different musical styles over the years has inspired me in so many ways: But on the napkins and Post-It notes in between cover band and opera gigs, I never stopped writing music for myself.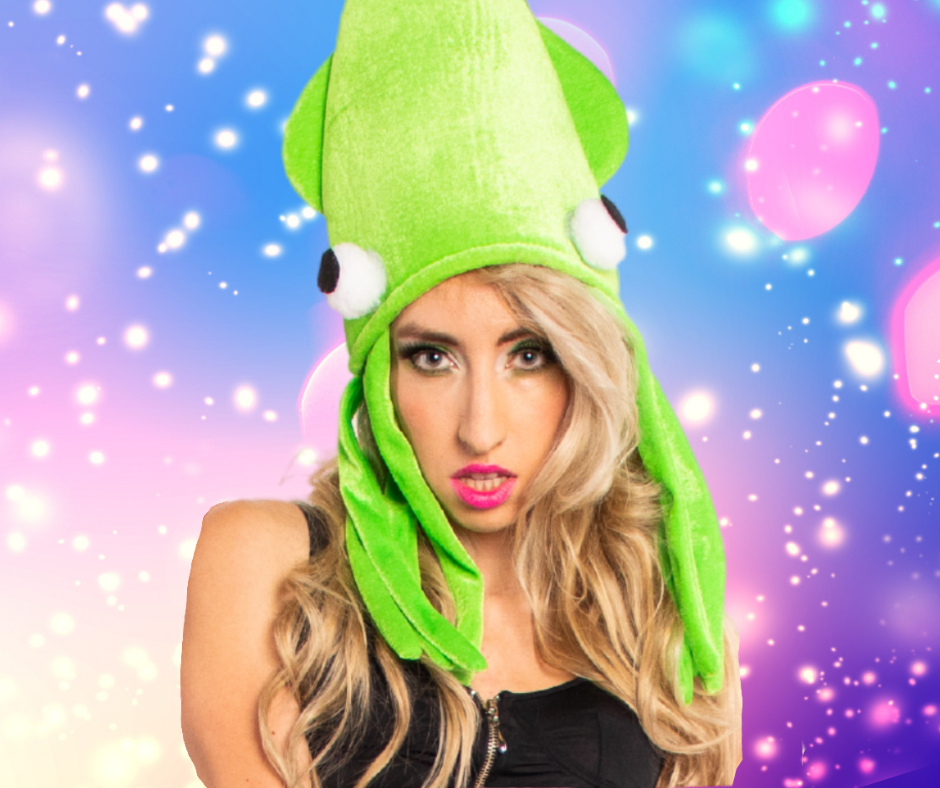 THE CONSPIRACY
I was just out of college – snatched my degree in vocal performance and was teaching acting classes while singing in the Florentine Opera as a chorus soprano. One of my co-teachers and now great friends, Deleono Johnson was set to MC an upcoming holiday event at the Wisconsin Center. He told me they needed a last minute fill in act, and next thing I know I got the gig. Not because I was any good, but because Deleono Johnson is one of the most trusted eyes in town when it comes to talent. His gifts for teaching are just as abundant as his skills are for writing, performing, filming and recording original content.
Only problem was–all the holiday songs I knew were already being done by other acts. With two weeks before the show, I wrote one. I called up my super musically intuitive friend Steph Lippert – who came through to bring my notebook chords to life with her finesse on the keys: Ya see, Steph is one of those insanely versatile musicians who can pretty much do anything: From piano teaching to singing and song writing, Steph's talents are abounding in so many ways. If you haven't seen her original band- The Steph Lippert Project – you need to get to a show!
Sorry. I just really love to brag about my friends. They're so freakin' cool.
THE ACCOMPLICE
After we performed the song, I got talking to a guy who was also a part of the show. He asked me if I had written the song we just performed, ironically titled, "Just In Time for Christmas".😅
Said his name was Chris Hanson and that he writes, records and produces music for TV/Film/Media exclusively for Warner Chappell – A division of Warner Brothers focusing on national and international music placement under the label he owns, MidCoast Music.
I'll admit – I was skeptical. First of all, is that even a thing? Do people actually do that? And here – in Wisconsin?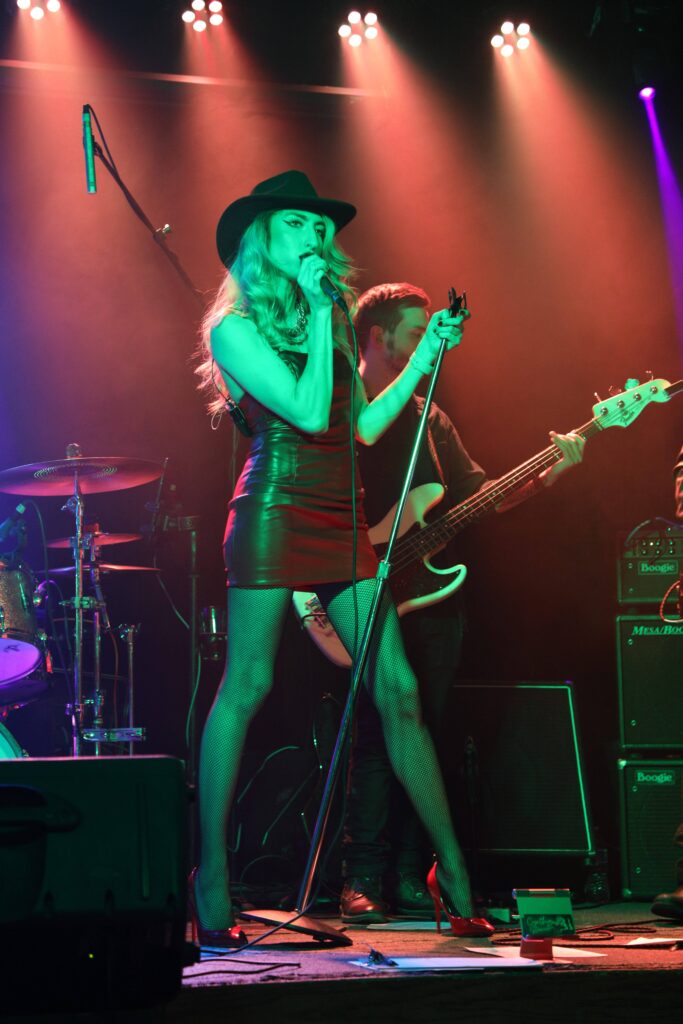 Turns out they do. Well, he does–and he sure does it well! We started working together, and I was introduced to the world of session singing, production music, and Pat McCurdy. In 2019 Chris and I started working on an original album, Play With Fire (2020). There is a song on that album for every emotion, from crying out for justice and equality, to heartbreak, upbeat positivity, mischievous endeavor, to acceptance and the feeling of being content with lessons learned the hard way.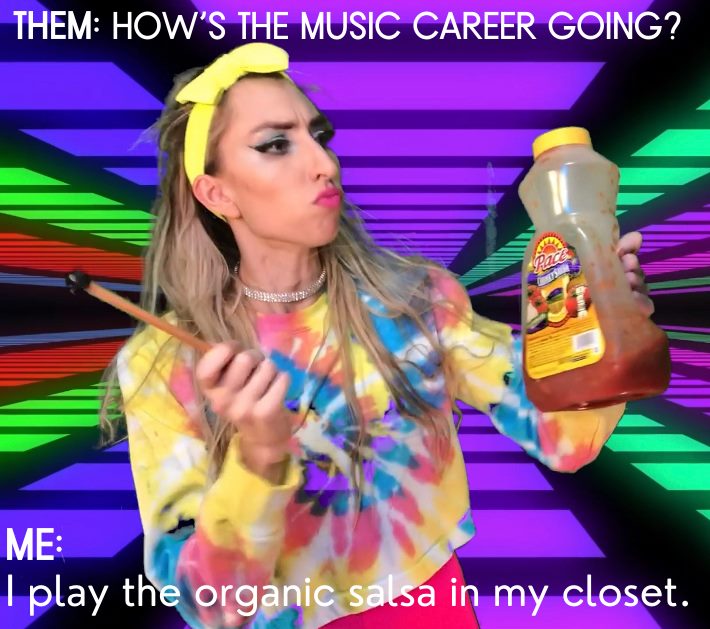 THE STOPPING OF TIME
The globe may have stopped turning but our minds didn't. Despite the shut down of the world, we managed to continue sharing ideas and audio files remotely until it was safe enough to record in the same room again. The title track to the next album, Heart of Steel was born–with so many songs quickly following, taking inspiration from the title track. Our second studio album, Heart of Steel was released in October of 2022. With a rebel-rockin' western flare, this new collection of blues-infused pop tunes is the perfect way to stomp into a new era of unapologetic, punny & comedically not-too-serious mantras:
"I Don't Look Back" – This sassy upbeat pop rock anthem will surely help you reclaim your power of not looking back while deleting the chat – Reminding you just where your heart is at.
"Why Are All The Good Things Bad?" – Hey, somebody's got to question the obvious things in life. Might as well be us while we're endlessly pondering the thought in a prison cell before breaking out of jail.
"Miss Behave" – Give a listen to a good ol' story about my favorite teacher. Word on the street is they still haven't found her…
There's a bunch more songs – you're just going to have to commit to fully subjecting yourself to this sonic wave of comedic realism to really get the full picture here. 💄
THE GANG
I batted my fake eyelashes and convinced some of my friends to join me on the dark side–where pop-rock-blues meets neo rebel jazz and Miss Behave is definitely still on the loose. Chris did the same, although I can't say his eyelashes had anything to do with it. (Bet it was all that damn guitar). Point is, if you're going to start a cult – the music better ROCK. The recruitment process is so much easier when you can tempt your friends with sharp 9s and sassy 6/8 rock bangers.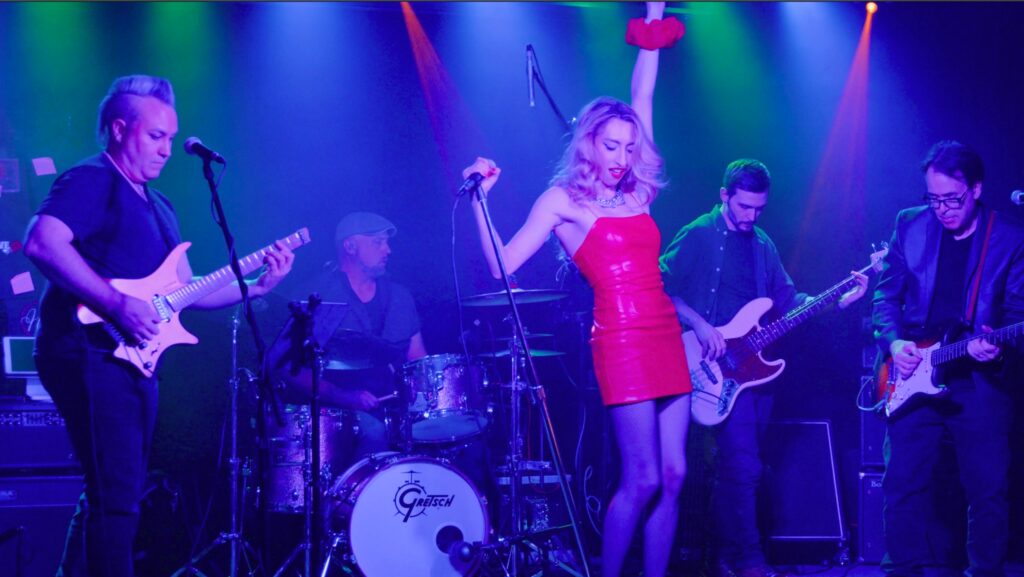 But really truly: We are so lucky to have such a talented lineup of some of Milwaukee's finest players:
With Chris Hanson on lead guitar, Teddy K on rhythm guitar, Sacia on keys, Brian Bruendl on drums and Elijah Hanson on bass, they'll have you Running Away With Your Love like a rockabilly theme song with a bad attitude.
Chances are you've seen us in plenty of other acts: 33RPM, Mission Accomplished, Totally Neon, Cordes de lion, The Little Monsters Tribute to Lady Gaga, The Chris Hanson Band, Milwaukee Tool Shed Band & MANY more! I'm incredibly grateful to share what I do with some of the most important people in my life.
Don't miss out! Grab your lipstick & bad attitude and sing along with us at our next show!
LISTEN NOW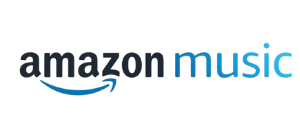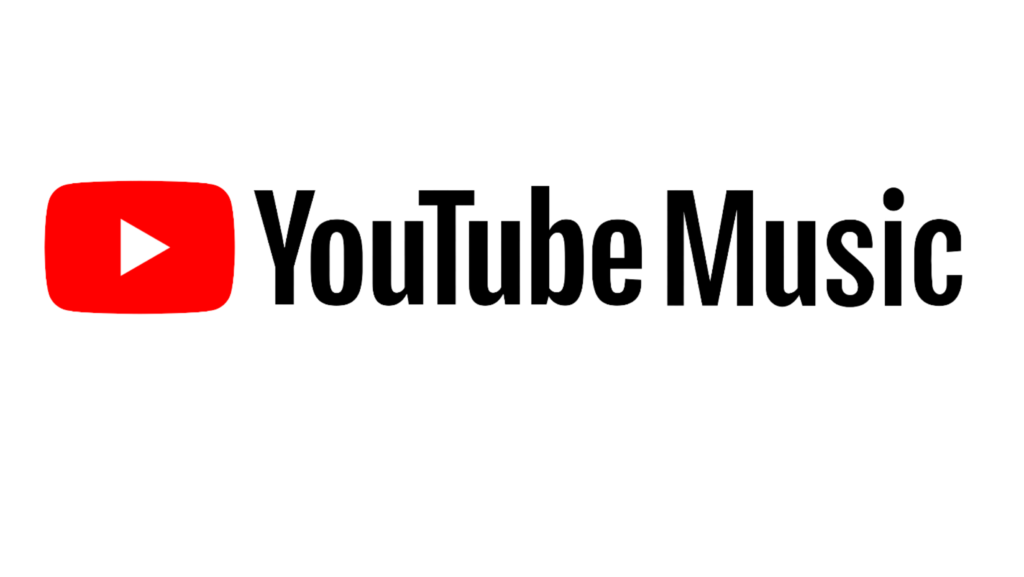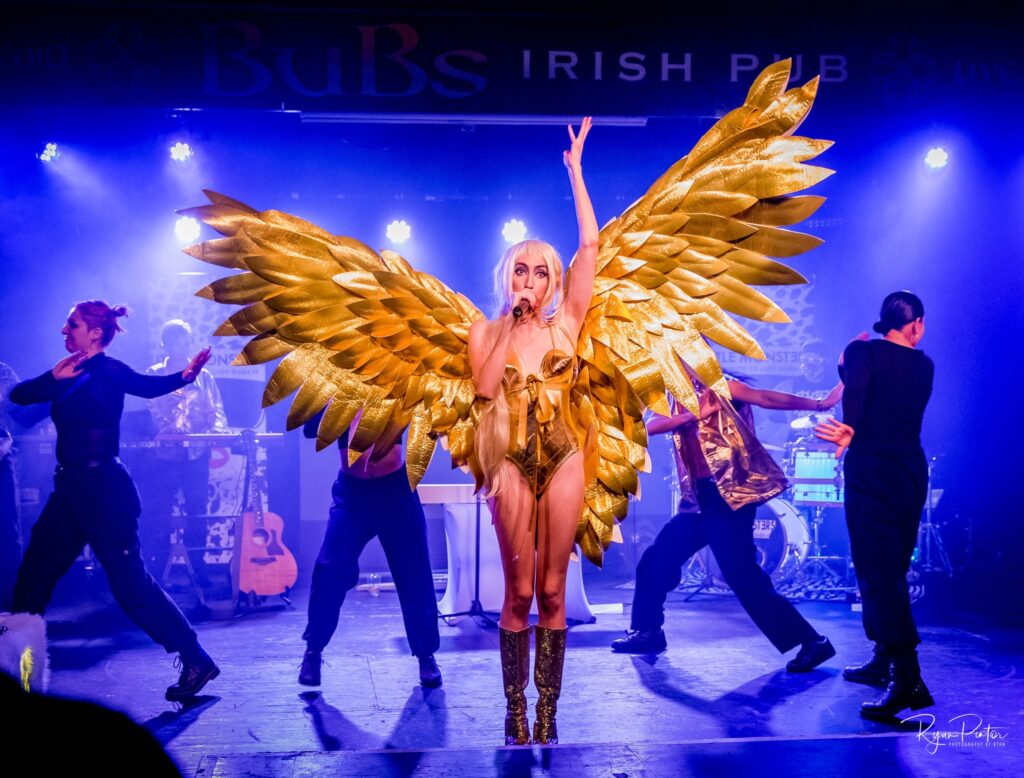 THE ALTER EGO
Our Alter-Egos help us make new friends, expanding our horizons into new territories we never may have crossed otherwise. Putting on a blonde(er) wig and stepping out on stage holding a giant disco stick in a sparkly unitard was how I met some of my best friends!
Are you the same person after you punch out from your 9 to 5 and turn up with the crowd at the club? If I had to guess, I'd be willing to bet you are just a little Crazy Underneath, and I've got a song all about how proud you should be of that fact.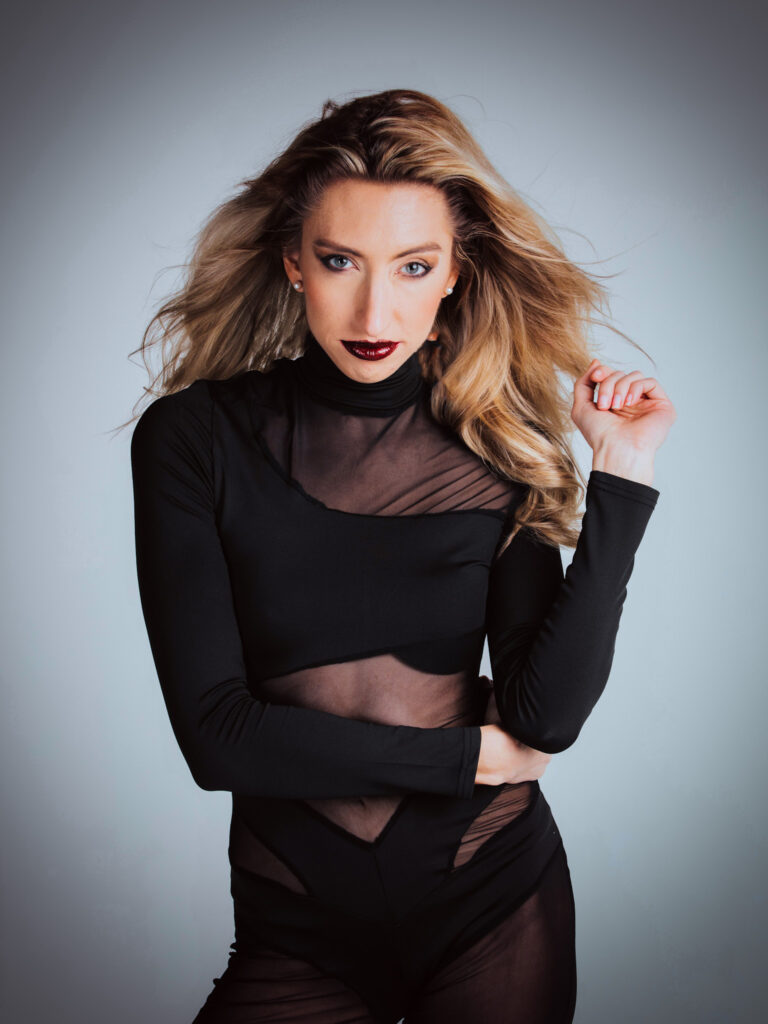 2023 WAMI NOMINEE – NEW ARTIST OF THE YEAR
What a privilege it is to be nominated for a 2023 WAMI Award! The WAMI program (Wisconsin Area Music Industry) is an organization dedicated to furthering the education, community, events & career endeavors of all things music in the state!