The magic of Hawaii's "Garden Island"
"All I want is to buy a new ukulele from the island and find some locals to jam with," I said to Bryan, weeks before we even started packing for this trip.
I never really traveled growing up, mostly because our family couldn't afford it, so I didn't have any sort of travel agenda nor the slightest clue of what to expect, other than the traditional imagery of beaches and Pina coladas that come to mind when you think of "Hawaiian Vacation."
However, our vacation was the LAST thing from typical island getaway.
No, no…it was so much more than that.
This wasn't a vacation as much as it was the wake up call I needed to remind myself of life's most important virtues. The lessons learned, friendships made, and the perspective that I took away from this trip far surpassed that of what I would consider a traditional vacation. (What actually is that, anyway?) Stay with me and I'll reveal the secret of having the absolute BEST vacation experience you could imagine at absolutely NO extra cost. Promise.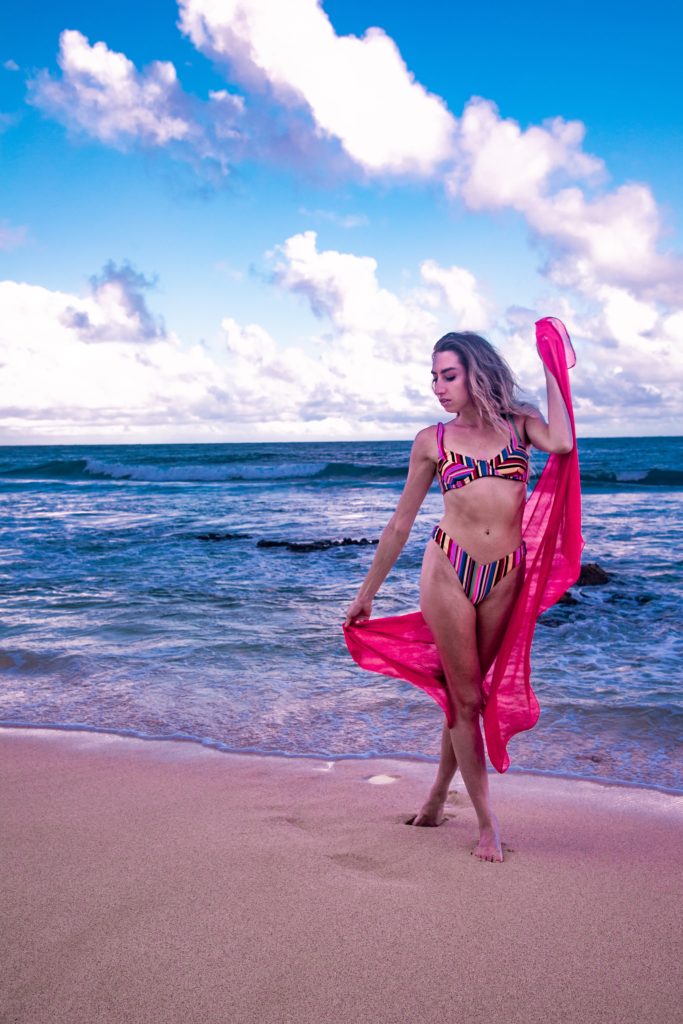 We decided to stay on the South side of the island in a town called Poipu. The town was the perfect combination of commercialized shopping boutiques, smoothie bars (banana smoothies are the bomb), and the famous Poipu beach, integrated with open parks, authentic Hawaiian culture, and plenty of friendly locals. We saw plenty of Green Sea Turtles and even a Monk Seal.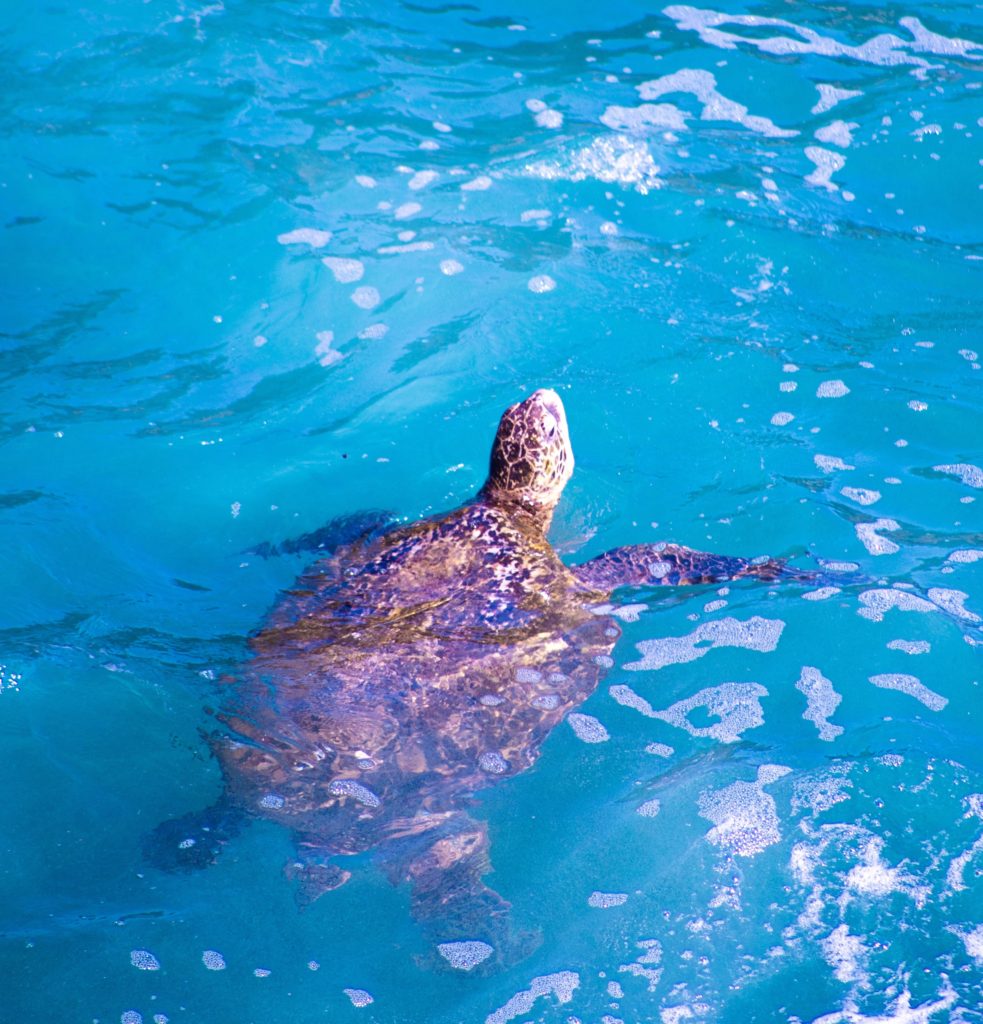 Our first morning on the island began with some shopping at the local village plaza. You can buy everything from your local groceries, sun hats, and Kombucha on tap. But, it was the color-changing nail polish store that will always be the most memorable.
A friendly, twenty-something surfer looking dude was working in Del Sol when Bryan and I popped in to look around. We got to chatting about music after jamming out to his playlist in the store for a bit. (French Kiwi Juice is my new favorite band). I told him all about my band, Down 2 Dance, song writing, and he told us about his side hustle in videography on the island.
When Skylar asked us what our plans were for our first day on the island, we confessed that we really didn't have any set plans other than my quest to find a locally made ukulele.
"Let's make a music video!!"
If I recall correctly, it was all his idea–but, I was just as ecstatic because I have always wanted to do a music video. And, to my own original song??
Day 1 on Kauai and dreams are already coming true…
Bryan was also pumped to use the new Hero 7 Black GoPro he bought just before we left home. And let me tell you, this little device really was our Hero the entire trip. I couldn't recommend it more! It's so simple to use, water proof, and takes 4K videos. Pure magic!
When Skylar finished his shift, the three of us jumped into the red Camaro and jammed with the top down all the way to Kalehao Music and Strings. I had a beautiful new ukulele shortly after, and the three of us spent the rest of the evening back at the condo, jamming and song writing by the ocean on the balcony with a bottle of Malibu.
Over the next several days, Bryan and I hiked the Nualolo Trail, and got some amazing footage and photography of the Kauai valley and Napali coastline. The view was absolutely breathtaking. I couldn't tell where the ocean ended and the sky began, with rainbows fading in and out of view from all around. This is the cheaper option to see the Kauai canons if you're not able to spring for a Helicopter tour. (More on the Helicopter tour later.)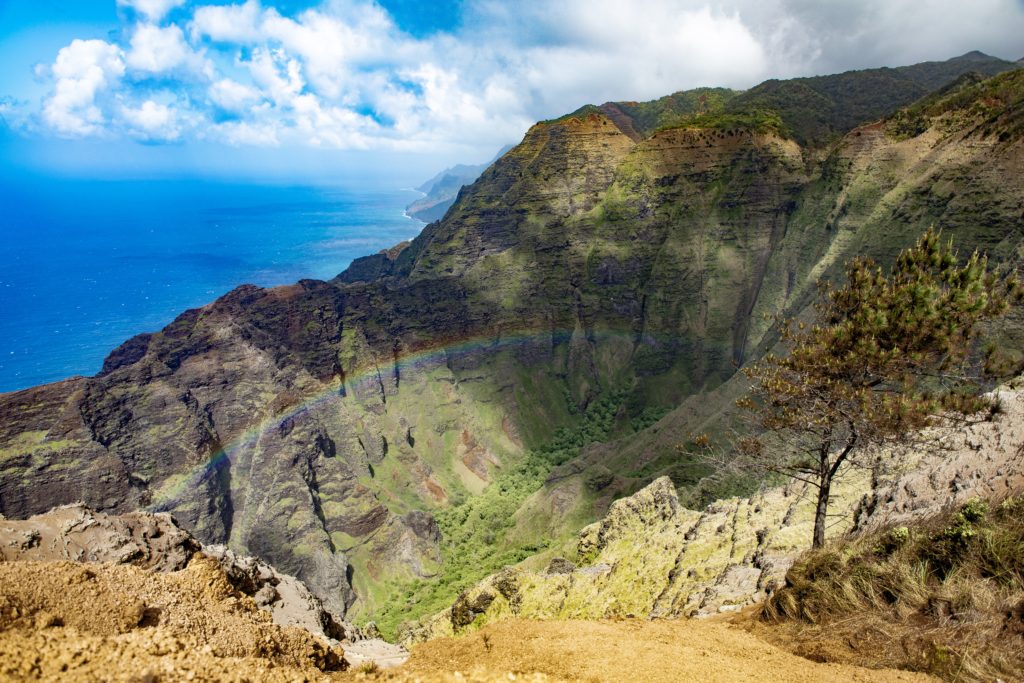 I also learned just how out of shape I really was–the trail is 3.75 miles each way. I recommend going on a DRY day, otherwise, you are almost sure to fall in the mud at least once.
One morning, Skylar, who happened to live just a couple blocks down the road from where we were staying, came over to record the audio for my original song, "What You Are". We were all throwing out ideas of where to shoot video content for the song.
"I wish we had a drone." Skylar said, wrapping up the mic. Bryan, the total activist immediately began asking Skylar if he knew of some place we could get one here on the island. After several phone calls to different businesses, we were all back in the Camaro, headed to the Walmart to see if they had the Mavic Air Drone in stock.
We've been wanting a drone for a while, but didn't quite have the incentive to buy one. Until now. One hour and one drone later, we were back at the condo unpacking the drone and testing out its flying power.
This is going to be amazing!! We were so stoked about our new toy. Skylar mentioned he had a truck, and that we should hit the beach with it and fly the drone over the coastline at some point later that week.
The next day, Bryan and I toured the Kaleheo Coffee plantation, and took home some amazing, locally grown banana flavored coffee. We caught up on some grocery shopping, and bought some fresh fruit, Anahola Granola, made on the island, yogurt, macadamia nut pancake mix, and my favorite thing: a candle in a coconut.
"This candle FLOATS!!! IT FLOATS WHEN YOU PUT IT IN THE BATHTUB!!"
The cashier was so excited to tell me all the must-know details about my new candle.
"And, it was made HERE! Right here on the island!!"
She was making me feel so much better about spending $30 on a relatively small candle. But I'll admit: it smelled soooooo good. Plus, it was official: I needed to see if Nina–the most passionate cashier ever–was right. We took our new candle, and all of our breakfast groceries home, and I began filling up the bathtub.
I think baths are so underrated as one of the most simple, romantic dates you can have with your SO. It's the perfect way to unwind and really be present with the person you love.
During one of our walks to the beach, I scooped up some fallen flower pedals and put them in my pocket. They were the perfect addition to an already fantastic bathtub date, but even better because they smelled amazing. Plus, I may or may not have had to jump a fence to get them, making them a symbol of accomplishment. 😅
"The energy on this island is incredible. I've never experienced anything like it in my life." As Bryan and I reflected on our trip so far, we were quickly realizing what really made this island so truly beautiful: How genuine the locals are. The cashier at the grocery store was probably happier than I was about the coconut candle, which now sat floating in the water by our feet.
She was right, it certainly floated.
We had already met and interacted with so many people with the most genuine energy because of their gratitude: The island provides for its people. From farm fresh coffee to eggs from the happiest Hawaiian chickens, local granola and abundant fresh fruit, I realized how much the island takes care of its people, and the people take care of each other.
The next morning, I woke up to the sound of ocean waves and the smell of banana coffee brewing. Bryan was cooking up eggs in the kitchen, and I starting making macadamia nut pancakes and blueberry parfaits.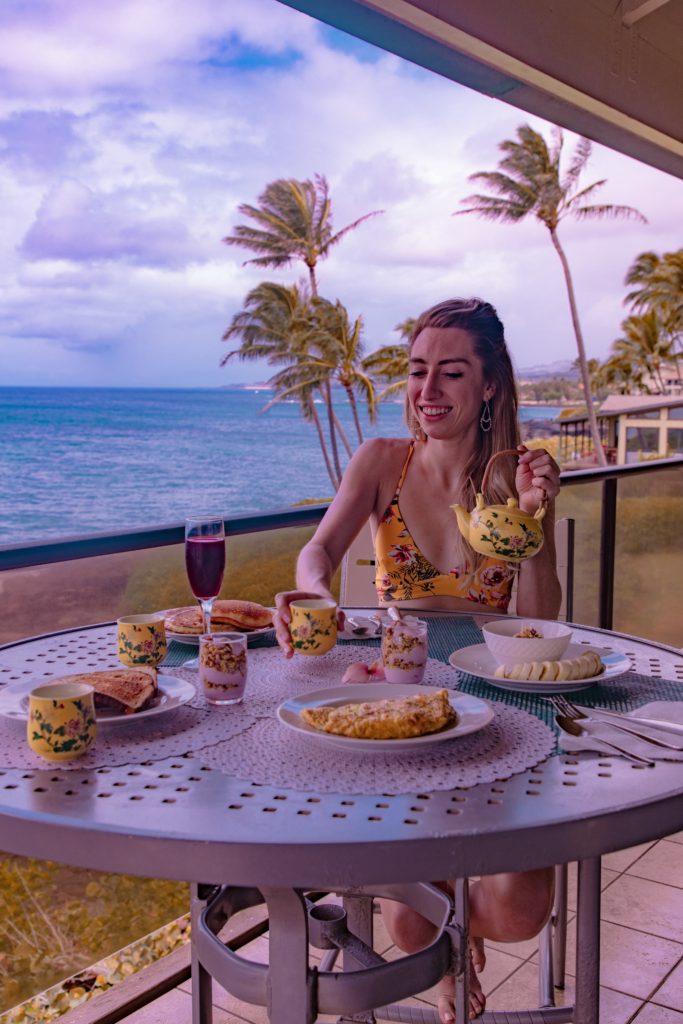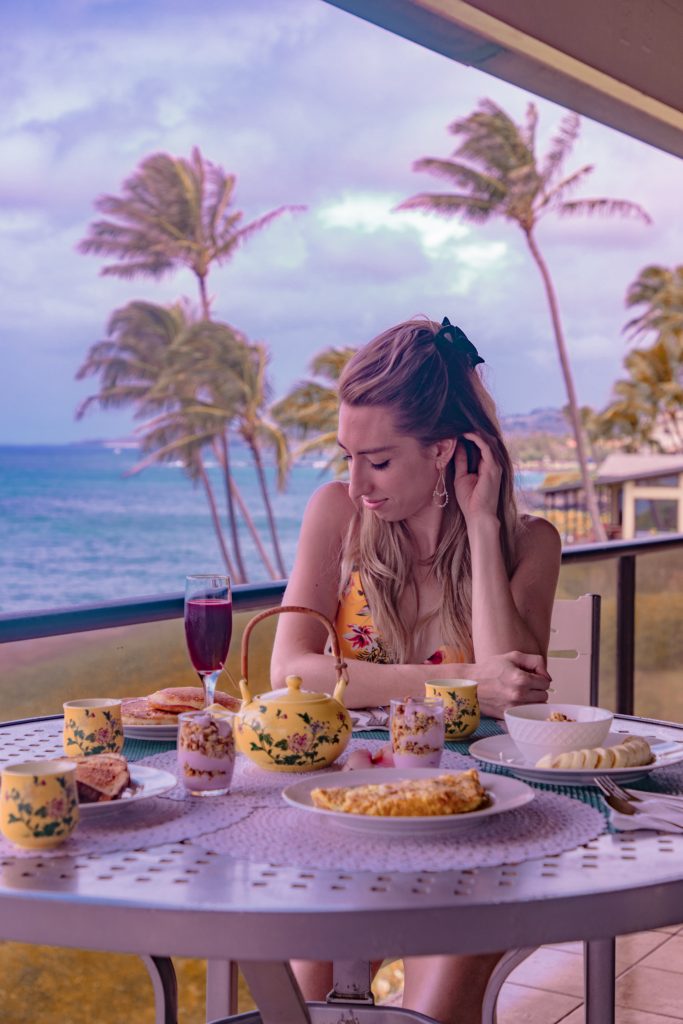 As we ate breakfast, we figured out our plan for the day. Kind of. I'll be honest, I'm not a huge planner. While there are a few things that can be locked in on the calendar, I don't like to have full days booked up from start to finish. I just feel like a vacation can begin to feel more stressful than necessary by doing that, so I like to have room in the schedule to breathe.
And improvise…
As we sat on the balcony watching the giant waves crashing into the rocks, I got an idea.
"Let's do a photo shoot on the rocks by the waves."
"Don't you think that's kind of dangerous?"
After getting our gear together, we made our way down to the giant rocks where the 15-20ft waves crashed majestically into the rock cliffs. The sound of the waves was simply indescribable. After watching how the waves behaved, we picked a spot we thought would be promising.
And within 5 minutes, we were right.
Here I am, standing on this rock cliff about 20ft down from the ocean, but far enough away from the edge to where it was very unlikely that I would actually fall off. I think.
DISCLAIMER: DON'T TRY THIS AT HOME. THE ACTIVITIES DESCRIBED ARE PERFORMED BY CERTIFIED MORONS OBSESSED WITH PHOTOGRAPHY, ADVENTURE, AND A DEGREE OF CALCULATED RISK.
Bryan, about 10ft away from me, brought up his camera as I braced myself for what I thought would be the average medium sized wave…
One second I was completely dry. The next second I was completely soaked. Feeling the power of that wave crash completely over me was beyond invigorating. I couldn't believe I got drenched! That must have been a bigger wave, I thought.
"DID YOU GET THATTTT?!?!" I shouted to Bryan.
"Um…YEAH…COME LOOK!" he yelled back.
I took a look at the preview of the photo on the camera's viewfinder:
"HOLLLYY SH&%#!"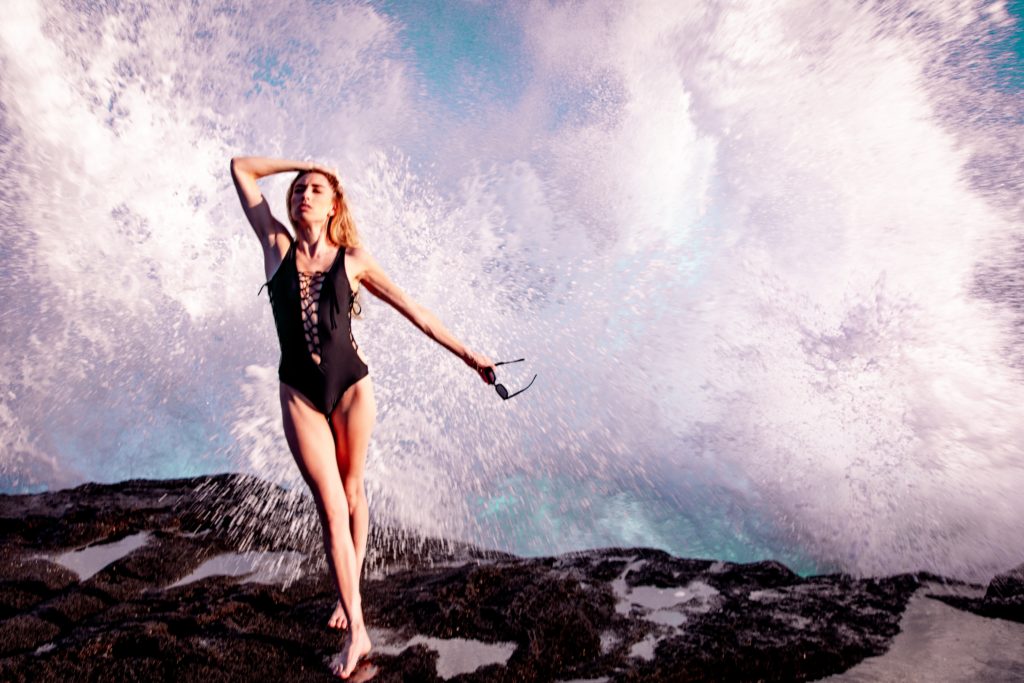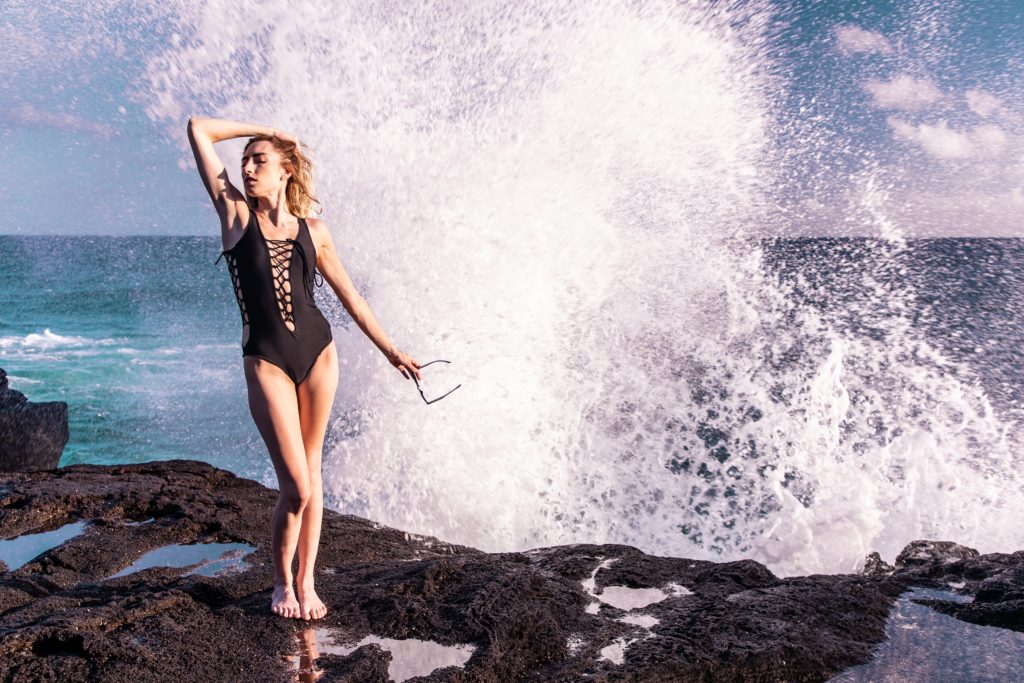 I let the warm wind dry me off as we got some more video footage for the music video. I remember looking out into the ocean when a realization came over me.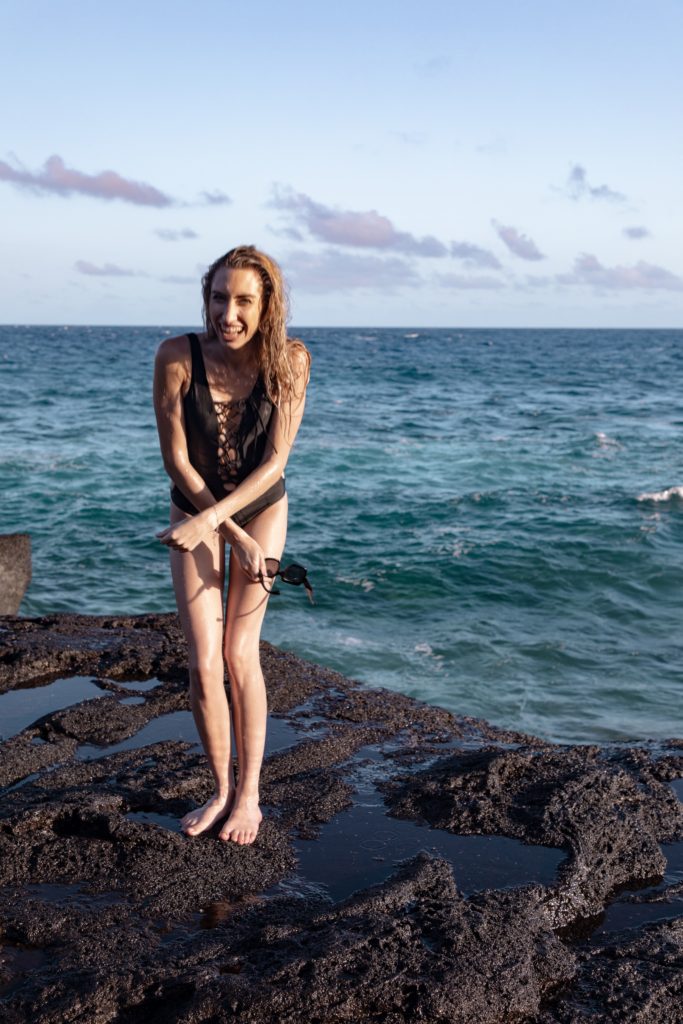 Sometimes in life, it's not always about having a set plan. Sometimes you have to take a step back, look at how the waves are rolling, and position yourself accordingly, even if you don't know with 100% certainty what the outcome will be. Sometimes you just need to simply trust in what you know about yourself and how you see the world to position yourself for the next wave in life. Opportunities will always come your way. Don't chase them. Focus on preparing yourself for them so that you're ready when they roll in.
We went on another (less dangerous) coastal walk which lead to a garden tied to a different beach front resort. I pretty much refused to go anywhere without my new ukulele, and began serenading the NeNe birds from a swing just off the beach.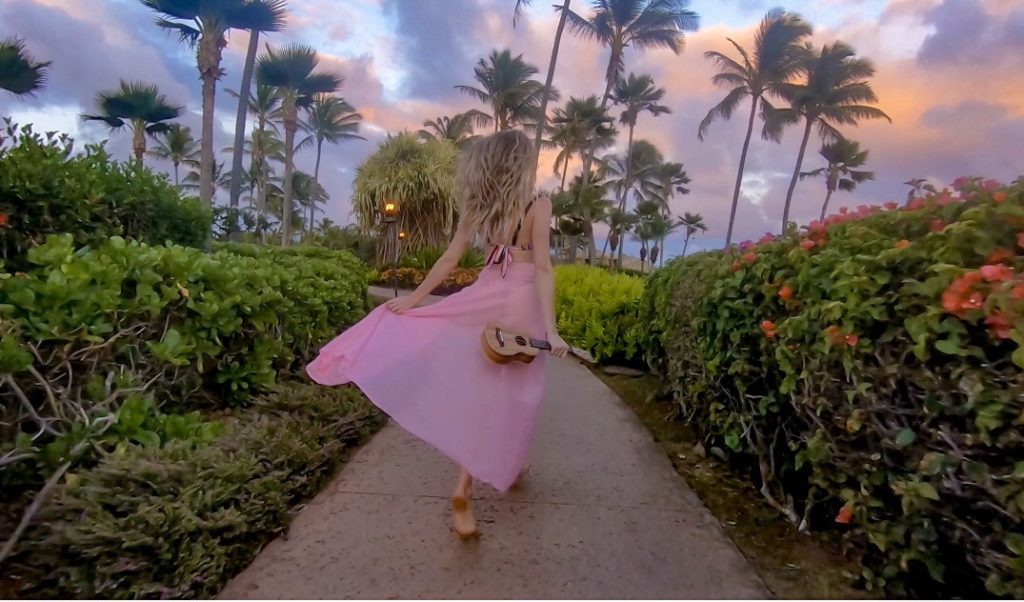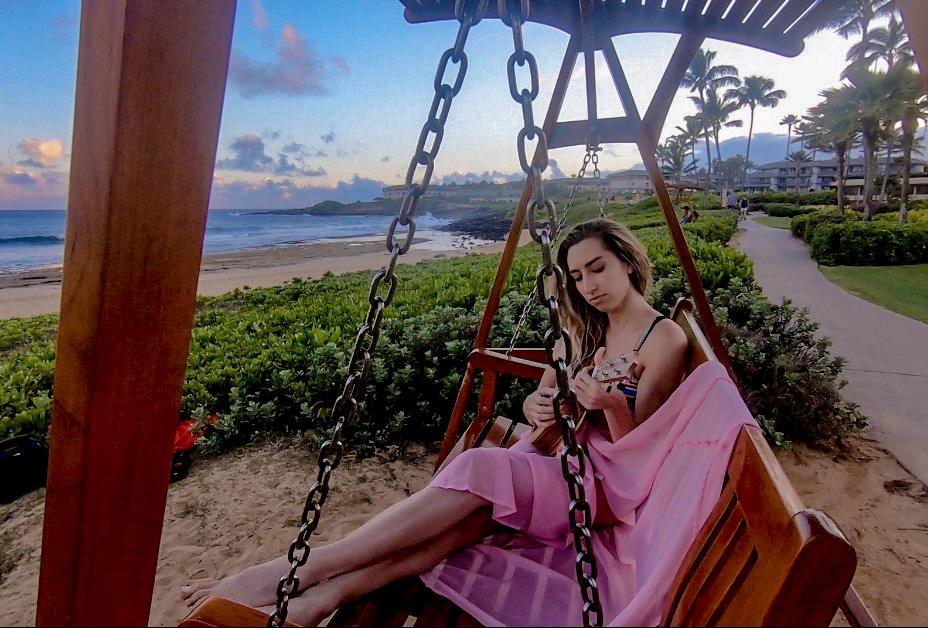 At the heart of the garden is the coolest restaurant on Kauai: Tide Pools. Tide Pools is attached to the Grand Hyatt Regency Resort. The food is pretty good, but what makes this place so cool is the experience. We sat at a table at the edge of the water pond where all kinds of colorful fish swim right at the top of the water in hopes you'll toss them a piece of your Hamachi.
They were lucky fish that evening.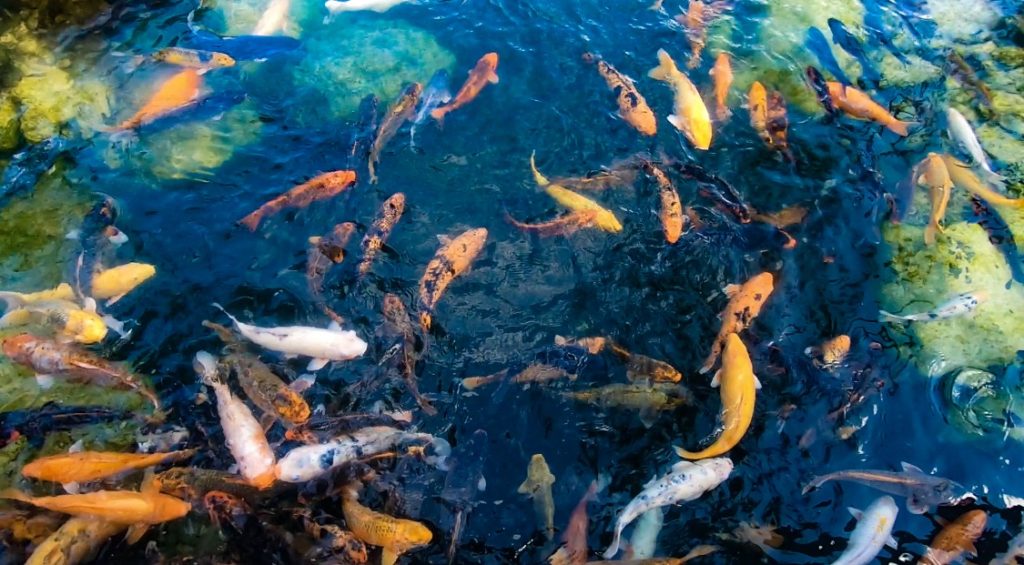 We were nearing the end of our time on the south side of the island before we were to make our way to Princeville on Hanalai Bay (on the north side of the island.)
One of those mornings, we met up with Skylar and his friend, Jake. They pulled up in the truck and that meant it was time to hit the beach! With no time wasted, we were on our way to miles of coastal beach for some fun in the sand and a drone to capture it all. We ended the night with pizza and good company, reminiscing a great day and the awesome footage we captured, thanks to Skylar.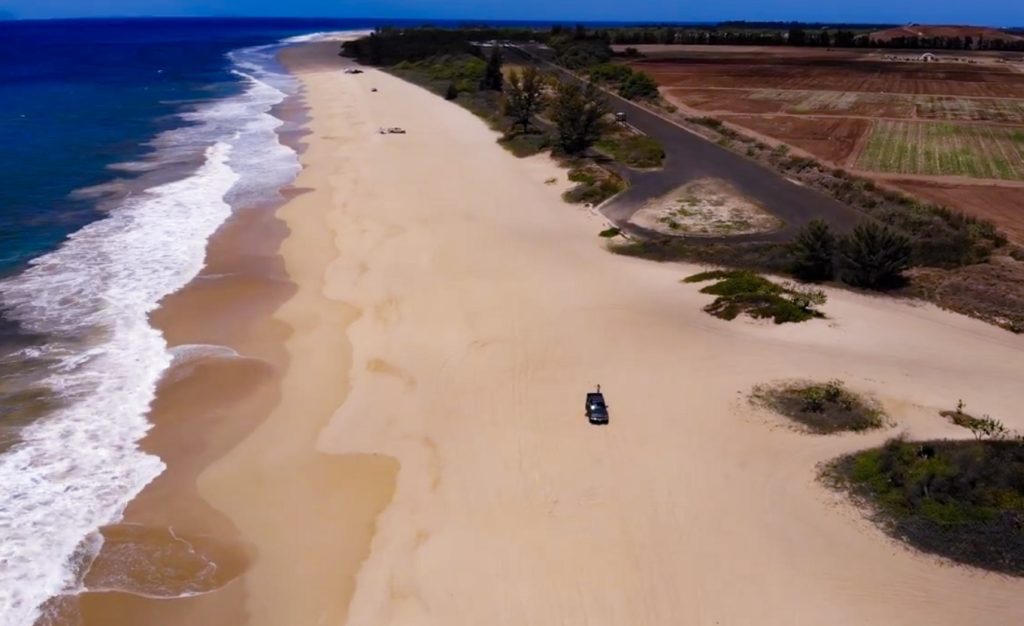 The next day, we packed up the Camaro and made our way to Princeville. Not going to lie, the resort was picture perfect, but my heart was still in Poipu. People dressed a lot fancier at Princeville, which, may be fun for a couple of days, but I could tell that most of the people at Princeville probably didn't leave the resort to explore the island. If you're looking for that traditional, all-inclusive-fancy-resort kind of vibe, yeah, you'll probably like Princeville.
We found our way out of resort life a couple more times:
Secret Beach : (Or, not-so-secret-beach) has some of the clearest water perfect for snorkeling on the island. Secret beach requires traveling the hidden trail to get there. Make sure to pack good shoes!
Queen's Bath : Dare I even mention it. Queen's Bath is actually very controversial because of how dangerous it really is. Tourists die here every year because they underestimate the severity of the high tide in this gorgeous but deadly rock cove. I'm all for adventure, but even I wouldn't go in it because I am NOT a strong swimmer. All I'm saying is, if you're going to go, DON'T GO IN unless you've thoroughly researched what you're getting yourself into. You can still enjoy this land mark without actually physically going down into the cove. The tide and ocean aggression of Queen's Bath changes with the time of year AND even time of day. Not to mention, visitors will need to travel a difficult, mile long MUDDY trail in order to even visit it.
Kilauea Lighthouse : National landmark surrounded by many species of the most majestic birds. This is a pretty easy, picturesque spot that doesn't require any real hiking. See it from a distance or pay the $10 to walk the 5 minute paved path to the Lighthouse.
Helicopter tour : If you can swing this, DO IT. It was one of the most incredible, moving experiences of my life. We chose to fly with the doors completely removed for what I called the "Edge of Glory" experience. The Helicopter tour that we did actually took us inside of an inactive volcano. It was the kind of experience that makes you step back and realize how incredibly magical and vast the world is, and how great of a gift it is to simply be a part of its glory throughout an entire lifetime.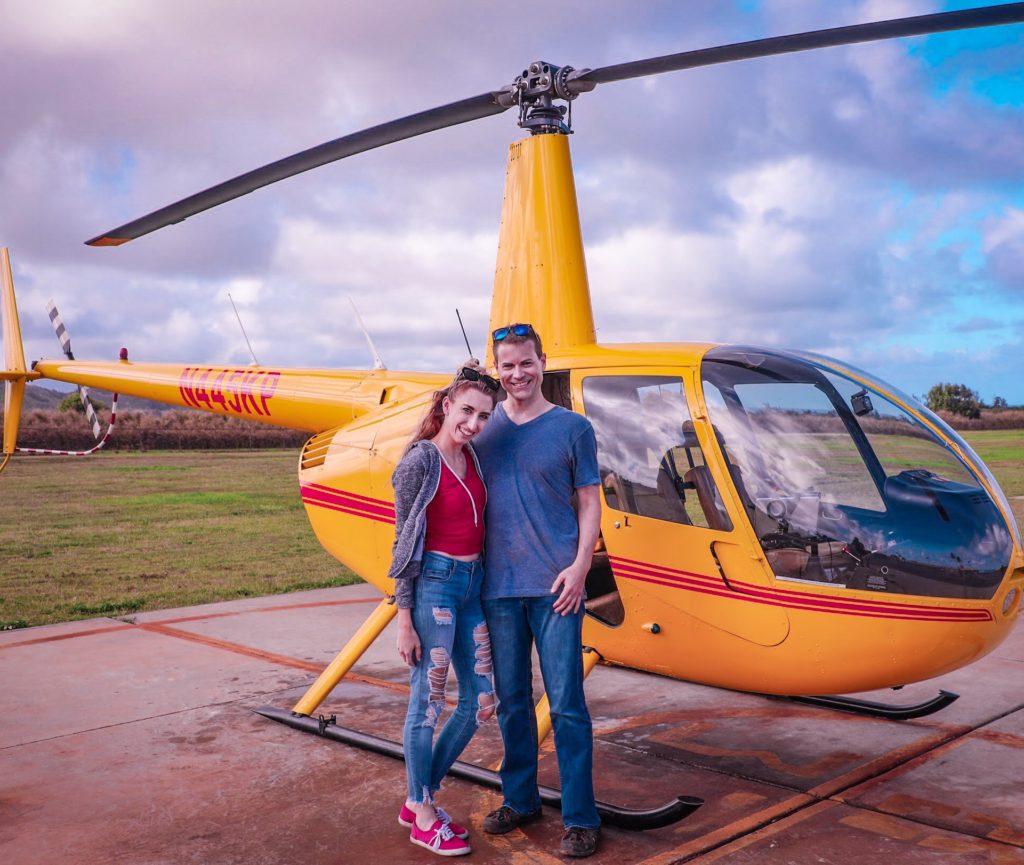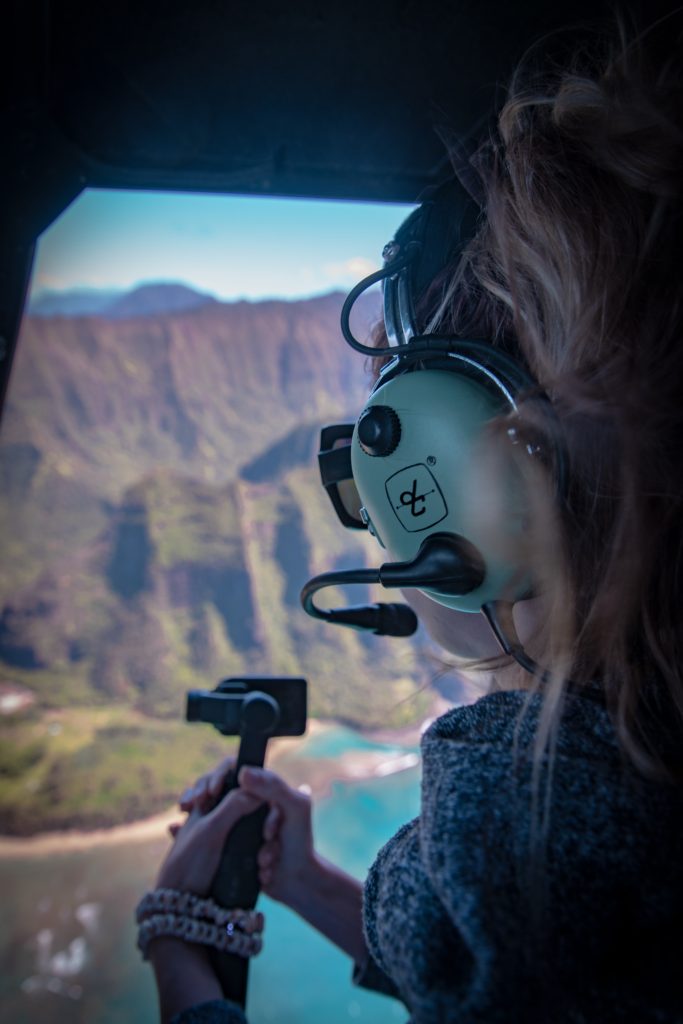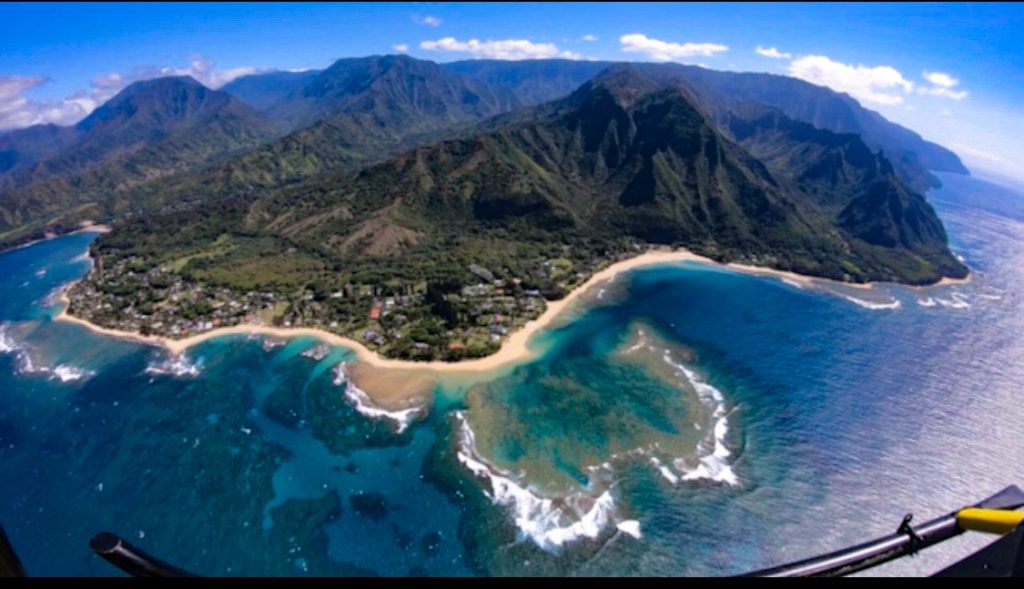 Check out, my top 10 things to see & do on Kauai.
Sunday morning we woke up to have Easter brunch on the outdoor patio overlooking beautiful Hanalei Bay. A woman in a floral dress was singing and playing ukulele, making her way from table to table with her contagious smile and unmistakable energy. She stopped at our table.
"Aloha beautifuls how are you enjoying your breakfast!?", she said with a beaming smile.
"It's absolutely amazing! And I must say, I love your ukulele." It was a really cool ukulele that had 8 strings. I'd never seen anything like it.
Without any hesitation, Mili Lani handed me her ukulele and insisted I play it. Which was when Bryan announced, "She wrote a song!"
With encouragement from everyone around me, I began playing and singing my song right there on a crowded patio.
"Take me on a journey to a place where we belong.

Hold me, go and love me, till the sky fades into dawn…"
This will always be one of my most cherished performances. Mili Lani brought over the rest of the breakfast staff, and I had the most overwhelming amount of love and support from complete strangers. I will never forget it the rest of my life.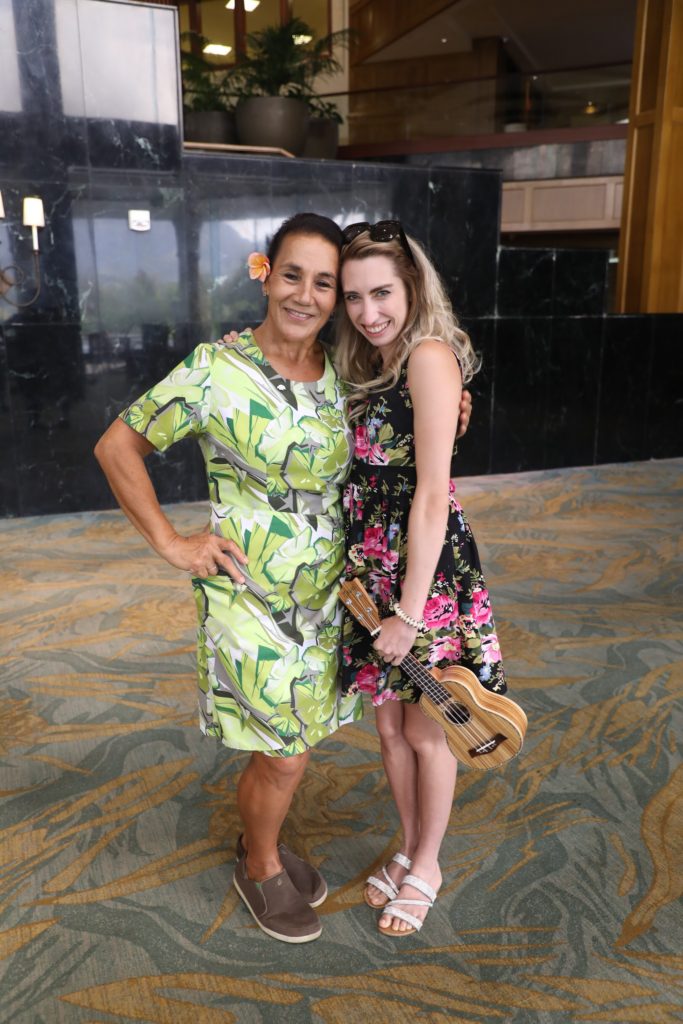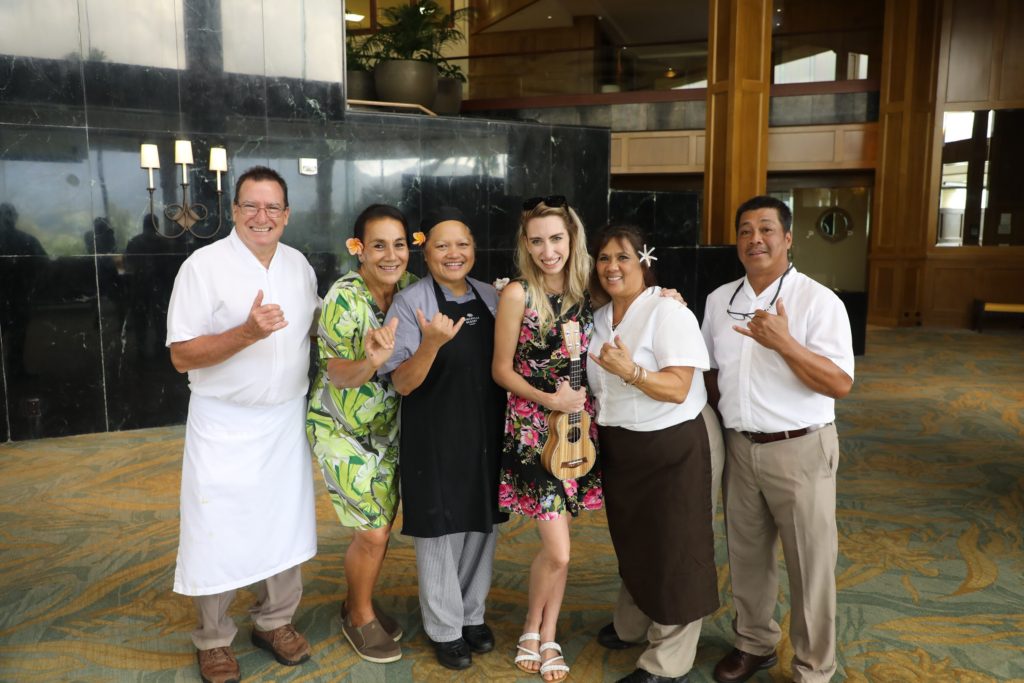 I truly believe that when you manifest good energy into the universe, the universe reciprocates it. Some of the best experiences in life simply cannot be purchased. Being open minded with the spirit of adventure automatically puts you ahead of having an average vacation, no matter who you are or where you travel to.
Until next time,
Mahalo Kauai 🤙