Need a little inspiration for your next photo shoot? I've put together a list of top photo shoot ideas that are perfect for comp cards!
#1: Athletic/Sports
Athletic looks are a go too look for so many reasons! There are so many different options when it comes to Athletic themed photo shoots: Running, Yoga, Hiking, Sports, etc. If you plan on doing a sports theme, be sure that you do not wear a jersey/uniform that displays a team or a logo. (Dress for practice, not the game!) Hit the tennis or basketball court, or down the street for a run. Yoga mats look nice at a park or a beach, and also work well in a studio setting.
#2: Casual Season (Fall/winter/summer/spring)
Think in seasons! A fitted sweater with leggings and heeled boots will photograph really well, just as a sundress with some color popping sandals! While these looks work in studio, take your casual look out doors for a more realistic effect. Autumn is a great time of year to walk through the park and capture the liveliness of the season.
#3: Business casual/Professional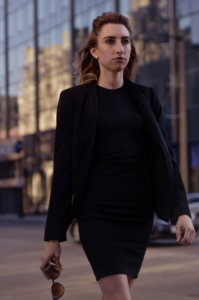 Grab your blazer and your briefcase and hit the corporate streets of a nearby city. Whether you're waiting at the train station or walking out of an office building, a photographer with the right angle can make even Milwaukee look like New York City. I recently did a shoot with Omniverse Media outside the Chase Building in Downtown Milwaukee. The reflection of the blue windows gave the shots so much depth. 
#4: Occupational  
Whether you are behind the bar serving up the best Brandy Old Fashioned, or a doctor about to treat patients, here is an opportunity to collect photos that will make you "look the part". Get creative! Especially if you are trying to land extra work in local film projects, an occupational look will help you obtain the photos you (or your agent) needs to submit for applicable projects.
#5: Beach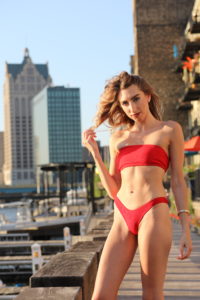 Have some fun in the sun and show off your bod on the beach! Walk along the shore with the waves gently brushing over your feet, or throw a beach ball up in the air and see how many times you can set it in a row! Wear a swimsuit with bold color to really make the photo pop.
#6: Formal 
Arrive in style to the nearest 5 star hotel in a luxurious maroon gown with a dramatic train. Lay the train of the dress down the stairs, while you pose elegantly at the bottom of the staircase. While you may not be there as the top model leading the fashion gala event, you will definitely make people think that you are! Just be sure to call or email the management to ask permission to shoot before you show up looking like a celebrity–they may need to call in extra security staff!
#7: Vintage
Pinup bikinis, swing dresses, or a polka dot playsuit is perfect for a 1950's summer look. Head down to your vintage ice cream parlor (Leon's! In Milwaukee!!) or the roller skate rink for the cutest vintage vibes. Ask grandma if she can borrow you a pearl necklace or some statement earrings…or better yet–take her thrift shopping with you! There are some seriously cute thrift shops on Kinnickinnic street in Bayview!
#8: City Street/Urban Vibes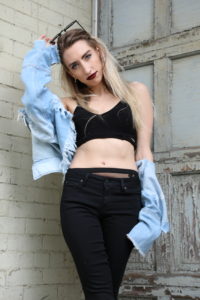 Distressed denim and converse never looked so good against a brick wall.  Add some dimension and texture to your look by incorporating mesh/cutout tops, or patterned tights to pop through the tears in the jeans. Tip: This is the perfect opportunity to wear a sassy graphic tee!
#9: Student/Young Professional (Coffee shop)
The next time you sit down to sip your latte at your favorite coffee shop, grab your favorite photographer to catch you in the moment! As you are vigorously typing your blog post on your mac, you will score some awesome studious shots. Plus, your glasses really do look cute on you.
#10: Dinner/Date Night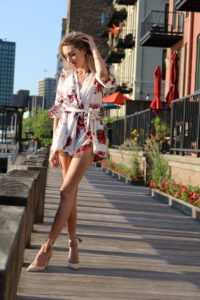 Find that little black cocktail dress and head down to a dinner patio on the Milwaukee river. (Rock Bottom is perfect!) Order your favorite entre and look out into the city lights. Choose a signature cocktail to sip–they have a great selection! The fairy lights along the patio will give you the perfect radiant glow.
Acquiring many different looks will improve your marketability to perspective clients. Clients love when they can visualize you in a particular role/part, so submitting applicable photos of yourself to your agent (or to the client directly, if you don't have an agent) will greatly increase your likelihood of getting booked!
Have you done a photo shoot recently? What was the theme of your shoot? Let me know if the comments section:-)