There is no place like New York City. The people. The music. The shopping…oh, but that HUSTLE, THOUGH…In New York City, you work hard enough, so you can afford to be a little extra. Okay, alotta extra…
Read till the end to find out what my MOST IMPORTANT SECRET ESSENTIAL ITEM IS… If you know me, you might already know 🙂 I'll also be listing my Blogger Essentials!!
Cocktail Dresses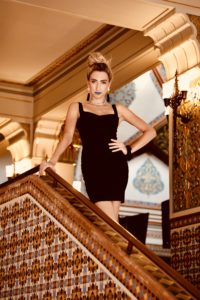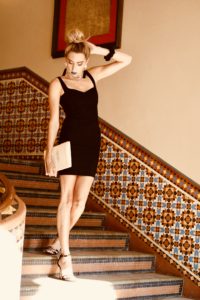 The first time I went to NYC was actually a college choir trip, where we sang at Carnegie Hall! My best friend and I lived NYC night life like locals…and still somehow managed to make it to 9am rehearsals the next morning😅
Anyway…I was SO GLAD I packed MULTIPLE cocktail dresses. Simply put, nightlife in a city that never sleeps is invigorating, and you never know what party you'll end up at. One of my go to cocktail dresses is this super form-flattering dress. I've had it for two years but it still looks and feels brand new. #newyorkproof
City Chic Chill Pants & Shorts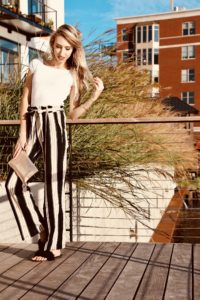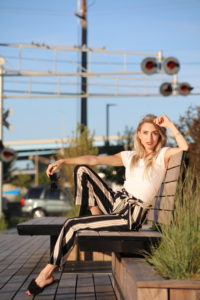 Paper bag pants or shorts (depending on weather) are the epitome of current street style.  Paired with the perfect fall basic top, they will be perfect for strolling through Central Park or blogging at a nearby coffee shop. Daytime is going to be pretty relaxing and low key, as the majority of my energy is going to be spent at night…
Shoes: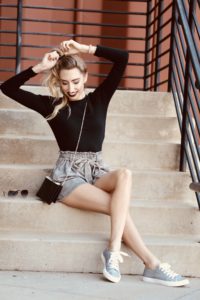 If you're a woman traveling to NYC, prepare to bring almost every type of shoe:
Boots : City Shopping and exploring. (These Steve Madden Brinkley Boots pair perfectly with jeans and a bubble sleeve top.)
Sneaks: Gray plaid canvas flats like these or these are stylish and perfect for morning brunch!
Heels: A classy pair of black heels with a touch of gold…Rooftop parties & Cocktail-bar ready
Comfy athletic shoes for all that walking.
Toasty Things:
Cashmere scarves that double as wearable blankets. Go from sexy chic to totally toasty with a simple scarf adjustment. My go to scarf is this beige cashmere scarf that goes with everything.
Beige Trench Coat–Repel the rain without looking like a tourist in a clear garbage bag.
Cashmere hand gloves–perfect for extended periods of being outside, and navigating the subway.
Brown/neutral long cardigan–throw it over practically anything for added warmth.
Leg Warmers!! (No explanation needed)
Makeup Bag:
Okay, I could honestly do a separate blog post on everything that's in my makeup bag, but here are the key products:
Skin Care:
TRY ME, ZITS!
Actual Make Up:
I will be sure to bring The best purple shampoo and conditioner (I'm blond…let's keep it that way.) And while we're at it, Batiste Blond Dry Shampoo for Blonds is perfect for in between washes, or to just add volume. To tame frizz and to add extra silk and shine, I'm packing my favorite silkening oil. I'll also use this hairspray during the day, (perfect touchable hold, and smells amazing) and this one if I'm going out dancing!
My signature scent: Kate Spade: Walk on Air
Other:
Sunglasses: I'm a sucker for cheap sunglasses. When I break or lose them, I don't feel bad.
Jewelry: Just bringing a couple of simple pieces to wear with everything. Whether I'm casual or dressy, I will wear a gold Kate Spade bracelet almost every day. Speaking of Kate Spade…
Messenger Bags!!: There is no other perfect bag for New York City than a Kate Spade messenger bag. The size and subtle sophistication of a bag like this or this make them chic and pick pocket proof!
Well, almost…watch your purses, people!
Blogger Essentials: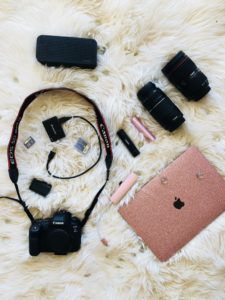 Canon EOS 5D Mark IV Camera is what Bryan uses to capture all of our images. The lens that the camera came with is capable of 4K video, and is functions well in low light. The Canon EF 75-300mm f/4-5.6 III USM telephoto zoom lens is perfect for quick, crips focus for close up portrait style images.
Macbook Pro is an important part of this balanced breakfast: Large file downloads and uploads are no match for its processing capability. With 128GB of storage,  it comes with Final Cut Pro for free, and GarageBand (for music production) is also available as a  free download. The  Glitter Case was the best $20 ever spent!
Pink Anker Phone Battery Charger
Anker Bluetooth Speaker (Soundcore sport xl)      
Business Cards (I am a talent scout, no matter where I am!)
Okay, so let's see if any of you guessed it. The MOST IMPORTANT ESSENTIAL ITEM for me to bring when traveling is…
My PINK UKULELE!!!!!!!!!!!!!!!!!!!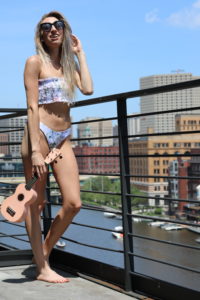 I get SO inspired to write songs every time I travel. My ukulele is portable and provides me all the harmonic support (and emotional support) I need to write songs…or serenade complete strangers. 😀 If you've ever thought about playing ukulele but don't know if it's something you'll stick with, I recommend buying this one. It was about $35 and mine is going on 4 years old and still works great. Plus, the tuners on the back are little baby dolphins!!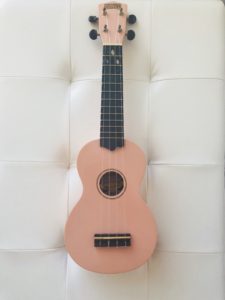 Did you guess my secret essential item? Do you also play the ukulele? Let me know if you have an item that you simply CANNOT travel without in the comments below!