Hey models! I wanted to do a quick recap of what you should always come prepared with to your photo shoot. As we know, full preparation is key to a successful photo shoot. (Yes, this blog is going to cover things for men, women, and kids!) I'm putting together a list of things you should ALWAYS pack with you to ensure you will be camera ready! I'll also be linking my favorite, most affordable photo shoot cosmetics and hair products.
Want more info on photo shoot preparation? Click here to read "The Pre Photo shoot Discussion all Models and Photographers Need to Have", and make sure you become familiar with the "Photo Shoot Etiquette Do's and Don'ts"
Okay, let's get into it!!
1. Basic Photography Make up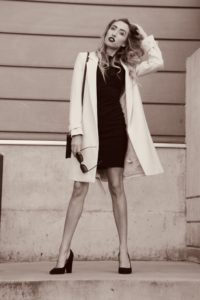 Now, if this shoot is for a paid booking, you are probably going to have a make up artist. While you won't have to pack all of your make up, it is still a great idea to bring the basics. If this is a student photo shoot or a trade shoot you will want to bring ALL of your makeup. Adults will need the following:
Oil-free Moisturizer
Not only will the moisturizer hydrate your skin, but it will prep your skin for a nice even layer of foundation. This SPF 15 moisturizer is my absolute favorite because It is the only one on the market that provides SPF protection against both UVA A and B rays, and works wonderfully under make up. It's non greasy, PABA free, and is great for sensitive skin. #WIN
TIP: Use a sweatband to hold all of your hair back while applying your make up
Under Eye Corrector
Note, THIS IS DIFFERENT FROM CONCEALER. The under eye corrector will be slightly pigmented to neutralize the red, purple, or brown circles under your eyes. You will want to get an under eye corrector pigmented to suit your under eye situation:
GREEN=redness under the eye
YELLOW=dullness (medium/olive color skin tones)
PINK/PEACH=blueish/dark purple color under the eye (This is my absolute favorite under eye brightening corrector)
ORANGE/RED=Dark circles for medium to dark skin tones This one will last all day and give you the perfect matte finish!
BLUE=Yellowish tint under the eye
Use your finger tips or beauty blender sponge to lightly apply the corrector in an inverted triangle patch underneath the eye and onto the side of your nose. Be sure to blend up close to the water line (lower lash line)
TIP: Make sure you always wet the beautyblender/sponge before using it, or it will absorb all of the product and not blend very well.
Concealer
Hide the pigmented corrector by concealing it. Choose a concealer that is your same skin tone, or half a shade lighter. Tip: you can also use the concealer to highlight the inner areas of your face. Concealers come in different forms (solid stick or liquid). There are definitely fancier concealers out there, but I find that when paired with the right corrector, this $6 option from Maybeline works just fine.
TIP: Pat blend with a dampened sponge or beautyblender.
TIP: DO NOT USE HIGHLIGHTING POWDER unless discussed with the stylist/photographer. Highlighter will drastically change the lighting effect, and it may not fit the aesthetic of the shoot. They way the lights are positioned for studio/print photography will already add highlights to your face. Don't make yourself look like a rookie. Leave off highlighting powder for head shots & print photography. READ THIS BLOG for more on Photo Shoot Etiquette.
Foundation
You will want a full coverage foundation that matches your skin tone perfectly. While there are plenty of high end options out there, the product doesn't need to be on your face for that long, so an inexpensive option will suffice. I recommend the Stay Matte shades from Rimmel. This one is full coverage and works great. It comes in multiple shades and is super mattey…perfect for photo shoots!! The best part? You can get it here for under $5.
Translucent Face Powder
Time to set all of those liquid based products on your face. Opt for a powder that matches your skin tone, or that is neutral in color. The one I use has been on the market for about 100 years and I love the way it smells. Get it here for about $6.
Other
Aside from my mascara, eyeliner, contour, and lip color, I'm always sure to bring extra bobby pins, scissors (for loose threads/tags) eye drops (for redness/irritation) and chapstick. Oh, and you'll definitely want to bring a lint roller!!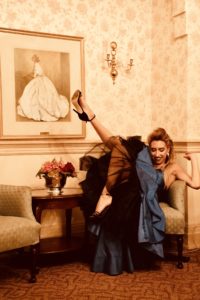 2. Hair Products
While you will want your hair to stay in place, too much hairspray (or cheap hairspray) can make your hair look wet or stiff. While it's totally okay to use less expensive cosmetics (they won't be on your face for that long anyway) I definitely advise getting a great hairspray that will give you a soft, touchable hold. My go-to hairspray is this one from Rusk. It provides all the hold I need and doesn't make my hair look stiff or stringy. And, by now you guys probably know that I'm kind of a sucker for anything that smells good. I am happy to report that this one definitely passes the #smelltest.
I actually think it smells like roses…
Also, I personally think "texture" sprays are kind of a waste of time. Most of them just end up weighing my hair down. Instead, try using some dry shampoo to maintain volume. Be sure you get one that matches your roots! There are a few options from Batiste: Blonde dry shampoo and brunette dry shampoo. They also offer a white/neutral color option as well.
To tame frizz, add shine, and retain moisture, I highly recommend this silkening treatment. One drop for all of your hair is all you need. Seriously. This product changed my life. I love the way it makes my hair look and feel, and it's especially great for color treated hair like mine! I swore to myself that I would only use it on photo shoot days, but…I don't know how to not use it every day. IT'S THE BOMB!!!
Bottom line:
When it comes to hair, you definitely want to be neatly styled. The "Messy Bun" or "bed head" looks do not photography well. Tame all baby hairs and fly aways back with bobby pins.
3. Nude & Strapless Undergarments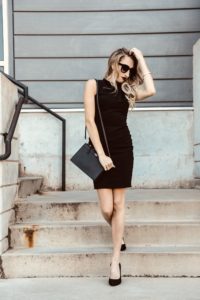 Okay dudes, you can skip this one. But only this one!! (And only if you promise to take your phone out of your pocket–we'll be able to see the rectangle impression it will leave in the photo!)
Ladies. It kills me when I see a gorgeous girl with an elegant dress on, only to have the whole look cheapened by lime green bra straps peeking out.
#detailsmatter
Do not let your undergarments be an afterthought! If you are wearing a strapless dress, you are going to want a strapless bra or some nude inserts. Plan ahead of time, and clean up the details!
4. Clean, New Looking Shoes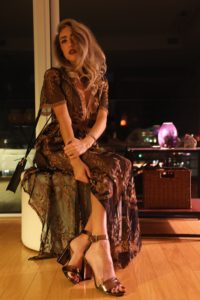 Your shoes need to look new. No side scuffs. No salt stains. New.
Think about this for a second. Would you EVER see scuffed up shoes in a clothing advertisement? It is your responsibility to own a couple different pairs of shoes that you take excellent care of so that they always look new.
Once again: Details Matter.
5. Small Accessories to Compliment or Enhance the Look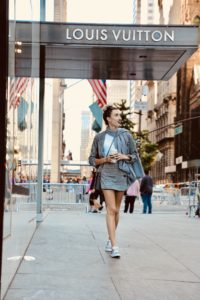 Purses, belts, yoga mats, tennis racket, etc. If the shoot is for a comp card or digital modeling photo, you will definitely want to read, "How to Dress for a Comp Card Photo Shoot." It's a great idea to bring in a prop that compliments your outfit/style. Leave pets and babies at home–you want the attention to be on YOU.
6. Composites
To learn more about Comp Cards and other important modeling materials, read "5 Model Marketing Materials YOU NEED." Think of composites as your modeling business card. While you may want to keep a few on hand, your digital modeling portfolio and social media are even more important to keep maintained.
Well, I'd say that just about covers it! Now that you know what to bring, it's time to make a checklist before your photo shoot day. Be sure to read, "The Ultimate Photo Shoot Checklist".
Know someone who will need Senior Photos soon? You may want to have them read this.
Have a question? Drop it in the comments section below! I'm happy to help 🙂
⭐️CYNTHIA