Listen up all MODELS, PHOTOGRAPHERS, AMATEURS & PROFESSIONALS: We need to have a LIFE CHAT about photo shoot etiquette in today's ever changing world of photography.
First thing's first: We all know there are so many different types of models, bloggers, designers, musicians, artists, etc. That said, there is no difference when it comes to photographers. Each one has their own angle (literally!) But in all seriousness, this art requires a high level of collaborative spirit rooted in equality and creativity from both the model and photographer. So let's get into it:
DO: Discuss details ahead of time
If you haven't read, "The Pre-Shoot Conversation all Models & Photographers Need to Have", READ IT. You will want to make sure that you understand the scope of the project in full detail, and know what questions to ask.
DON'T:
Assume that you will just discuss details "as you go". Not being aware of the details pertaining to wardrobe, location, shoot duration, photo terms/releases or even compensation will add unnecessary stress, and may cause problems in the future.
DO: Prepare Accordingly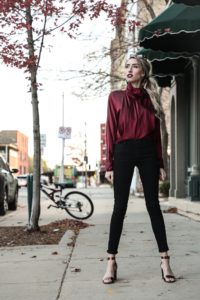 Carefully select an outfit that will compliment the venue. The photographer will have ideas in mind as to what stylistic goals they are trying to accomplish with the photo shoot. Make sure that you discuss all of this ahead of time so that you are fully prepared. Be sure to bring everything you will need to your photo shoot. Read: What's in my modeling bag
Part of preparation is being on time…which means being EARLY. Should any difficulties arise, contact the model, photographer (or corresponding agent) immediately.
DON'T: Show up in your favorite club dress "just cuz"
Or any outfit that doesn't flatter the shoot location or venue. Discuss all wardrobe and venue ideas ahead of time, and work together to determine the desired theme or aesthetic of the photo shoot. Not caring about the photographer's vision and simply wearing whatever you feel like is not only disrespectful, it shows that you only care about your vision. This is a TEAM EFFORT.
DO: Communicate kindly
Sometimes an idea just doesn't work, and that is OKAY. Whether you are the model or photographer, if something isn't working, calmly and kindly explain that you need to modify what is being done, or simply change directions. Do not pretend to be comfortable doing something you are not. Chances are, it will show in your face, and ultimately…the photo.
DON'T: BE RUDE OR CONDESCENDING
This really should go without saying, but showing patience and kindness in a moment of frustration is the only way to maintain professionalism and mutual respect. Do not make passive aggressive comments about the model's look or photo movement. Models, don't ask the photographer to see the photo in the preview screen every third shot. If there is something you do not understand, kindly ask the photographer to clarify, or even demonstrate.
DO: Freely create & explore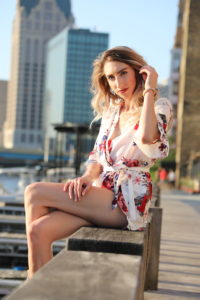 That said, when you establish a respectful, effective working dialogue, the creativity is limitless. Set a tone that is kind and open. Inspire the model to feel comfortable and explore new ways to showcase their personality (and fashion!!) When both the model and photographer take an equal role in creating, the final product will be much more vibrant and captivating!
DON'T: Feel like you are not "allowed" to do certain poses.
I've styled so many photo shoots, and often times the models will ask if they can raise their hands, jump, sit down, etc. You can do whatever comes to mind. Your photographer is open to capturing your on the spot creativity.
DO: Reflect and discuss
Did you love the way your photographer was able to catch you in mid air while you were doing a back flip? SAY SO! Compliment your photographer's adaptability and expertise. Think you need to work together to develop a better way to communicate or plan? Also let them know. It is also helpful to mention anything that you feel that you did well with, in addition to mentioning things you could improve yourself.
DON'T: Pretend everything was perfect if it wasn't.
If there was something that ;made you uncomfortable, tell your photographer. Many times, it may not have anything to do with the photographer. For example, letting your photographer know that you don't feel comfortable shooting in front of strangers is something he or she should be aware of.
DO: Say Thank You!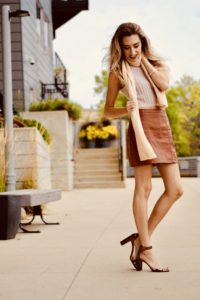 Thank your photographer/model for their work on the project. It takes a TEAM to accomplish the vision, so be sure to extend your sincere gratitude. Take a selfie together and post it on Instagram! This is a great way to let your following audiences know that they can expect some awesome photos yet to come!
Don't: Bolt out as soon as the last photo is taken.
Help clean up and load up the photographer's supplies if needed. This is a kind gesture and shows that you care.
DO: Review Details
Discuss when the photos will be available, how you will receive them, and ask the photographer any questions you may have regarding their release form before you sign it. (Read this blog for more details)  Also, leave the photographer with a couple comp cards. This is a great way to leave a reference of yourself. The photographer may pass along your comp card to other awesome photographers. Click here to learn more about Composites, or, "Comp Cards", along with other standard modeling materials.
DO NOT: Harass the photographer for photos the next day
Chances are, your photographer has a TON of other projects going on simultaneously. Do not expect to receive the photos that week! By this point, you should have already discussed an approximate timeframe of when you will receive the amount of photos that were previously agreed upon. At a very minimum, most photographers will not offer the photos prior to two weeks. Photographers usually take an average of 2-4 weeks for a single photo shoot, or 2+months for a wedding or large event.
DO: Follow up with your agent
Definitely let your agent know how the shoot went! Your agent will want to know the positives and negatives (if any) pertaining to your shoot. Was your photographer on time? Did he/she communicate effectively? Did they facilitate a comfortable environment? Any feedback you can provide your agent is always extremely helpful. Remember, your relationship with your agent is also a TEAM.
DO: Always Value Professionalism
Even after your shoot is over, always be professional no matter what. Chances are, you are going to have a few fantastic photos!! However, if for any reason you run into problems with your photographer (or model) you need to let the corresponding agent know right away.
Unfortunately, if you are not working with an agent, there is not much you can do when it comes to a photographer failing to deliver photos, or deliver photos that matched your expectations. The best thing you can do in this unfortunate situation is to remain calm and kind. Your reaction is always a reflection of your character. Do not turn to social media to verbally bash or lash out on anyone. (Doing so only makes you look immature and inexperienced.) A true professional knows how to endure unfortunate situations calmly and respectfully. If you really were not pleased with your collaborator's work, simply do not shoot with them again. 
Photo shoots are a blast, but behind the scenes they are a lot of work! The best artists are the ones who are confident and collaborative.
Are you ready for your next photo shoot? Be sure to read, "What's in my MODELING BAG" (available next week!!) to make sure you are ready to go the next time you hit the set!
Did you find this blog helpful, or have a follow up question? Definitely leave a comment! I respond to all of them 🙂