Want to glow through the winter without all the UV radiation from tanning beds? You don't have to let go of the glow just because winter says so.
Okay, my lame poetry has officially gone too far.😅
ANYWAY…
Skip the dose of cancer and add a simple self tanner to your skin care regimen. I've put together a step by step guide to make sunless tanning super simple:
Exfoliate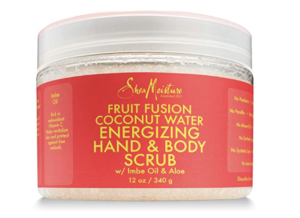 First thing's first. Let's get rid of all the dead skin cells. This step is key to helping the tan last as long as possible. I like to use this Shea Moisture sugar scrub for full body exfoliation. It smells wonderful, and is gentle enough to be used multiple times a week. I also love the fact that it contains no parabens, sulfates, or synthetic fragrances. With aloe and imbe oil, these nourishing properties will make you want to exfoliate every day.
Moisturize Joints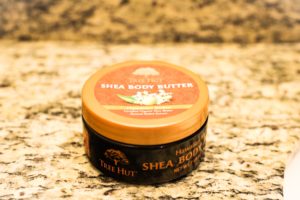 I like to use a thick coco butter for those spots that self tanner likes to absorb to the most: kuckles, elbows, shoulders, knees, ankles, and the top of your feet/ toes. If you plan on applying it to your face, be sure to get your nose and chin. Make sure to apply an even layer to these spots. For the rest of the body, spray a light cucumber aloe spray instead of doing a full body lotion. (This will prep your skin without placing a thick barrier between the skin and the tanning agent, allowing more tanner to be absorbed into the skin.)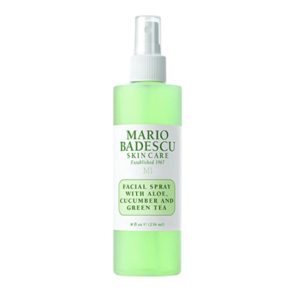 Tip: Shave the night before applying the tanner. If you apply the tanner to freshly shaved skin, you run the risk of the tanner sinking into your pores and unevenly staining your skin for weeks. It probably won't happen with this particular brand (I actually tested it, and nothing happened) however it has happened to me before with other types of self tanners. (Skin staining is more likely to happen with a lotion based tanner, which is nothing like the one I'm about to show you:)
Use the Best Foaming Self Tanner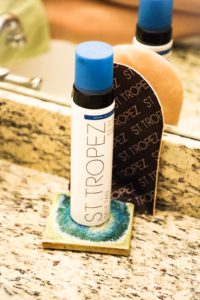 St. Tropez Bronzing Mousse is hands down the best self tanner I've ever used…and trust me, I've used a lot of them. The faux tan looks SO FREAKING NATURAL, and it fades evenly just like a natural tan would. So many other tanners have left my skin feeling dry and tired, but not this one. It's a very light, foam product that evenly coats the skin in a sun kissed glow. St. Tropez is super quick to apply and simple to maintain.
This streak-free, foam formula blends so effortlessly. What I especially love about this formula is that it doesn't have a strong or really potent scent, especially in comparison to many of the other brands out there. To be honest I weirdly like the scent of this one, and being that it is self tanner…that certainly says a lot!
Pull your hair back
Do this now so that you won't have to do it when you're half way through applying the tanner and you realized you forgot to. A High pony or bun is perfect so that it is up and off of your shoulders/neck. You will definitely want to wear a headband or sweatband if you plan on applying the product to your face. (I always do, it makes the tan look much more natural and consistent.)
Prep the Mit & Apply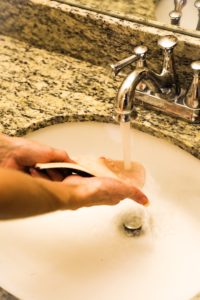 St. Tropez comes with this little sponge-mit. USE IT. DO NOT USE YOUR HANDS.
Make sure that your sponge-mit is pre wetted. Then, apply a ping pong ball sized amount directly to the mit. Gently start rubbing the formula in small circular motions to the opposite side of your body that you are wearing the mit on . (With the mit on my right hand, I will focus on the entire left side of my body up to the top of my shoulders.) The circular motions will blend out any streaks or lines. The non streak foam formula is fantastic, so you really won't have a problem with streaks as long as you blend well.
Applying to the Face
Apply a quarter sized amount to the top of the mit and blend in mini circles while avoiding the lips and eyes. Since your hair is pulled back in the headband, it will be easy to blend the product onto your forehead. Be sure to blend slightly up into your hairline. If you don't…when the product dries you will look like you're wearing a face mask.
Unfortunately I know this from personal experience. 😑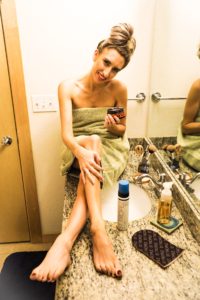 Drying
I usually do my weekly self tanner on a Saturday or Sunday in the morning. I don't like to do it before bed because it can rub off on bed sheets. Pick a morning when you know you won't have to be anywhere for at least 2 hours following the application. That way, you can chill in full nude around your house in peace.
Mid-Week Facial Application
We cleanse our faces multiple times a day, so the color fades from the face the fastest. (Read Picture Perfect Facial Skin Care to up your skincare game!) You will want to do a quick facial application mid week. Since you only need to apply the product to your face, you do not have to wait too long for it to dry. (It dries pretty quickly anyway, especially when only applied to the face.)
Tip: Take care of the mit!! After you are finished applying St. Tropez, rinse out the mit with hot soapy water in the sink. I always let the mit dry off the side of the bathtub.
While you will see an immediate difference, the color will take another 10 hours to fully develop.
Be Wise: Moisturize.
Ba dum, TSS. Okay really though: make sure you are using a fantastic moisturizer to keep that color lasting as long as possible. If you let your skin dry out, the color will fade faster. I recommend using a shea or coco butter both morning and night. (I use the same one that I apply to my knees/elbows etc. before applying the tanner.) This Hawaiian shea butter is perfect because it compliments the scent of the tanner really nicely, and is super hydrating.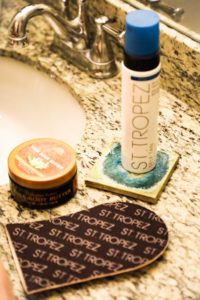 Find this article helpful? Have a question, or just want to share a funny story? Leave it below in the comments section–I'd love to hear it!
⭐️Cynthia