Or should I say, co-lead singer! A true highlight of my week is band practice with my Down 2 Dance fam. Ever since I was a little kid I dreamed of being a singer in a band, and when that dream never stopped nagging, (even after obtaining a B.A. in classical vocal performance) I knew it was time to actually give this whole rock band thing a try. I am so glad I listened to that small voice in my head that said, "Go ahead, just try it!" instead of never allowing the opportunity to manifest in fear of judgement or ridicule (Especially from the Opera/classical world!!) If there is something you have been thinking about trying but have been putting it off, do it now. It's amazing how a subtle interest can blossom into a passion!! Never be afraid to explore new avenues…
Four Guys…plus me!
Our band, Down 2 Dance, started by our other lead singer, Nick Montag. Being a Top 40 Pop/Dance cover band, we get to play all our favorite songs of the 2000's, always including super recent songs in our set list. My favorite thing about this band–even more than the music–are the other guys!! They are all so truly talented and each have their own unique style. Nick, our other lead singer, is incredibly fashionable and equally charming. Our guitarist, Thomas, is not only capable of completely shredding on guitar, but he is also a savvy computer engineer and music producer. Steve is freaking hilarious, and his drumming is pure sorcery–you just have to see it! Our new bassist, Josh, is super chill, talented, and can carve out a baseline to 40 songs in just over a week! (Just ask him at the next show!)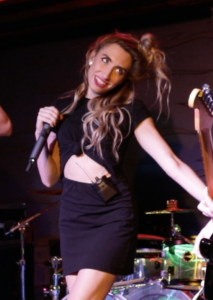 I'll never forget my first show this past March at Bub's Irish Pub in Germantown. We had such an amazing turn out, and the energy from the crowd was so inspiring! I couldn't believe how into it the crowd was–singing every word, dancing, drunkenly crashing into each other and spilling drinks to Kesha's "Tick Tock"…it was invigorating. I looked out into the crowd and back to the guys on stage and thought…YUP…this is exactly where I want to be!
With each show we do and every venue we book, we make all kinds of memories together. We have so much fun at every show that at the end of the night I'm still surprised when I get handed money…oh yeah, I get paid to do this?!! It is so fun and we all have such a great time, but that doesn't take away from the responsibilities we each have being a member of Down 2 Dance.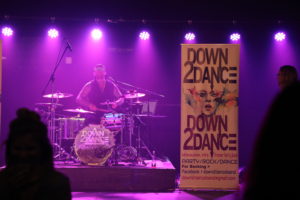 Not all rock stars and guitars
Being in a band is a lot of work and requires a lot of commitment. Aside from memorizing 4 hours worth of pop music, it takes time to set up all of the equipment, adjust the sound according to the space of the venue, work with the lights, sound check, break down and load up everything at the end of the night… it can get exhausting. Honestly, with all of the joy it has brought into my life, and for all the people it has brought together, it is beyond worth it. I'm sure the guys  would agree, or at least be able to say,  "THAT'S WHAT SHE SAID!!"
Be sure to follow us on Instagram @down2dancemke. (Our Insta stories are hilarious!) Also, check out our website and complete list of upcoming shows at  www.down2danceband.com