Have you ever thought how cool it would be to step out on the runway, learn that instrument, or start that YouTube Channel?  I am convinced every single person has at least one thing that they have interest of pursuing, but something always seems to get in the way of actually doing it…
I'm totally guilty of making excuses for reasons I haven't tried something I've always wanted to. Some of my favorite excuses are:
"I don't have time/I'm busy"
"I don't have X amount of money"
"I don't live in a bigger city"
"I don't look like ____"
We can rattle off any excuse we want, BUT at the end of the day…all of these excuses all stem from one root source:
F E A R .
So, where is this fear coming from?? And, the bigger question: How can we stop it from getting in the way?
1. The Past
Most of us have vivid memories of the moments when we've failed in the past. I personally have just a couple myself: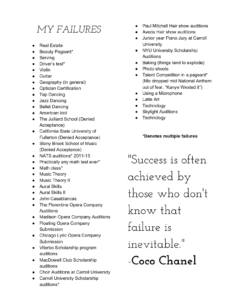 So, I've clearly failed at PLENTY of things.😅And, the reason why I'm super open about them and don't care is because they bare no relevance on my current life. Now, this isn't to say that some of these failures didn't completely break me when they actually occurred, but I've since learned that the cycle of failing, learning, and beginning again with more information were NECESSARY in guiding me into the direction of fruition. Funny thing is, many of these same failures you see listed above graduated and went on to become successes. 💪
No matter how much failure can define a moment in time, they can never define YOU as a complete person.
Ya hear that, exploding cupcakes?🌋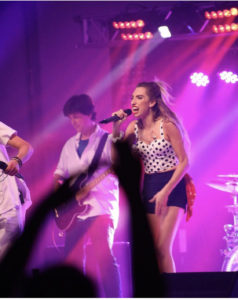 The Present
We live in a very judgmental world. I've heard so many of our agency talent and students talk about how AFRAID they are about putting themselves out there because of fear of judgment from their peers. And trust me, this isn't something that necessarily goes away with age or experience. People are mean, and even meaner when they can hide behind a keyboard and a screen. Two things you should realize about mean people and judgmental people:
#1. They have more fear and insecurity than those who put themselves (or their work) out there.
#2. People who exude negative energy possess it within themselves, which makes them unhappy. (Probably because of #1.)
Fear of judgment actually goes away the moment you realize that your opinion of YOURSELF matters more than the ones judging you. It goes away when you realize that you are creating something, and they are not. The fear of judgment stays away when you make the conscious decision to decide that the only rubric you need to adhere to is one that YOU write, based on your OWN values, perceptions, and goals.
The Future
It's like there's a pattern here or something. Hear me out.🧐
The future, by definition, IS  uncertainty. While we can set ourselves up for success, we can not choreograph every micro detail of our future. We don't know how every action we make is going to play out, and so fear comes from the unknown. Now think of it this way…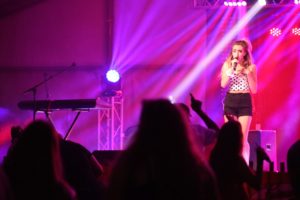 Because we DON'T KNOW in full detail what will happen, we are NOT GUARANTEED or ENTITLED TO ANYTHING…
Not even TOMORROW.
It's not about making fear 'go away'. It's about 'keeping it at bay', and realizing you have a limited amount of time on this earth to determine whether or not you will control your fears and conquer, or allow your fears to control you and never step forward.
💄Now go put your lipstick on and go do ALL THE THINGS.
Hey you, what have YOU failed at? What did it teach you? And, how are you BETTER now because of it? I'd love to hear your story!
Also, comment a🌋 on my last post on Instagram, and I'll be sure to follow you back🙃