THIS IS FOR YOU, MY WISCO LADIES!!  Many times we're left out in the cold (LITERALLY) when it comes to super cute fall fashion trends, simply because our "Fall" is approximately two seconds long, and then we roll right over into frozen-tundra mode. (Remember last year's "off the shoulder jacket" thing? Yeah, exactly…I don't either.)
Here are some realistically WARM ways you can stay on trend AND out of the cold:
1. PRINTS: PLAID AND ANIMAL PRINT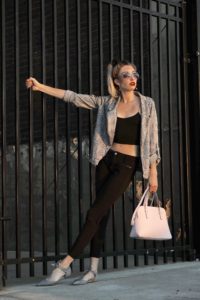 Plaid is everywhere this season. What I love about plaid is the subtle sophistication it adds to practically any outfit. Usually I am wary of wearing a lot of pattern, but there is something about plaid that makes it simple enough to still remain neutral. Update a casual summer legging-and-crop-cami look to a fall boss babe vibe by adding a loose blazer. On trend, and warm.Tip: Add a pop of red to your lip when wearing neutrals. Want the color to last all day? Get the best red lip ever.
2. TEXTURED AND PATTERNED SKIRTS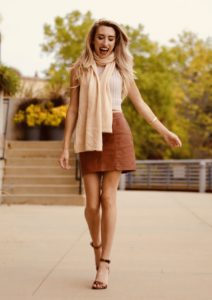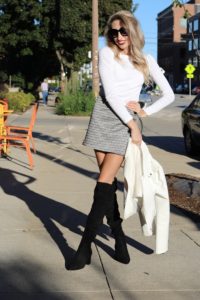 I am not even close to being ready to give up wearing skirts quite yet. I am absolutely IN LOVE with this look of the gray mini skirt paired with this Topshop crop top and  high rise boots. Keep an eye out for skirts with interesting texture, like leather or faux leather, velvet, and knitted pattern. 
Okay, and now for the one we've been waiting for:
3. Boots!!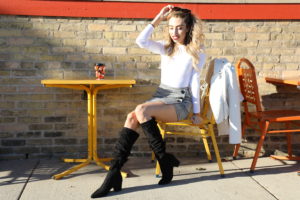 High rise boots. Low rise boots. ALL THE BOOTS.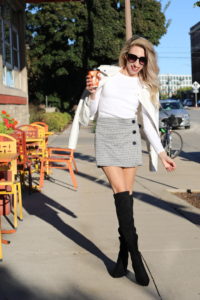 These Steve Madden suede boots from Nordstrom look super classy and pair perfectly with the skirt! There are so many things that I love about this pair of boots. First of all, I own so many pairs of boots that I never feel like wearing, simply because the heels on them are impractical for everyday tasks. I absolutely love these boots because I can easily run to Colectivo or the Public Market while not sacrificing comfort for elegance…they even have the pointed toe, which really gives them such a modern look. I usually don't wear pointed toe very often, simply because they are usually less comfortable, but these boots are definitely an exception!! Not to mention, the suede is SO SOFT.
Other boots that are on my radar are the ones with the side cut out, and ones with animal print!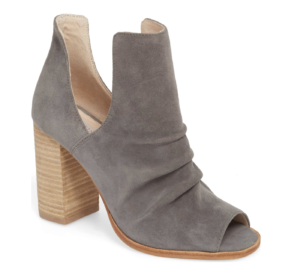 a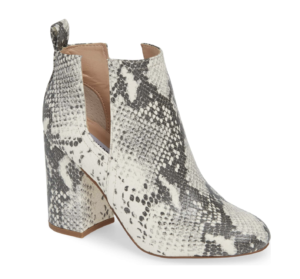 4. Big Sleeves and Bubble Sleeves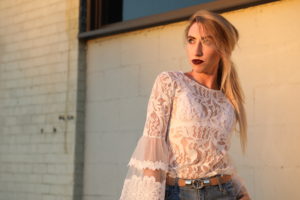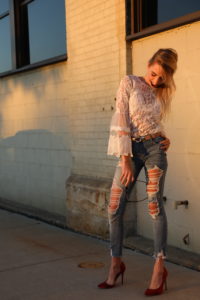 The puff sleeve was big and bold all over the runways at NYFW 2018, so it was reassuring to know that this subtly dramatic look isn't going away any time soon. Tops like these take a pair of jeans to a whole new level.  Tuck the shirt in more tightly in the front than in the back. Add a simple belt to add a touch of elegance and to define your waist. My favorite part about this look is how well it transitions easily from a day time look to an evening look. Just let your hair down, and you're ready to go!
Have a favorite fall trend? I would love to hear about it! Leave me a note to let me know you were here <3