Here are some opportunities to keep an eye out for! Open to everyone, agency or no agency!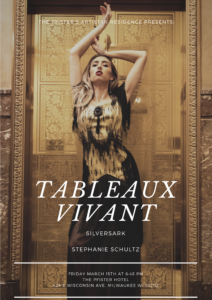 The Pfister Hotel's Artist in Residence Presents:
Tableaux Vivant
"Silversärk"
A Classic-inspired high fashion collection by Stephanie Schultz
Friday, March 15th at The Pfister Hotel. Doors open to the public at 6:45, Show begins at 7:30. There will be a reception in the ballroom following the show at 8:00PM. Keep up with the latest happenings by following #AiRfinaleshow and #PfisterNightOut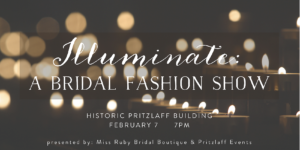 Click flyer for details!
This event benefits PEARLS for Teen Girls, a local organization dedicated to empowering young women.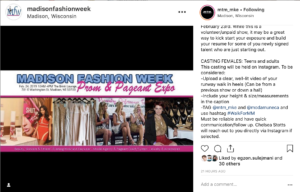 Local designer, Chelsea Stotts of Moda Muñeca is currently casting volunteer runway models to feature her collection for this year's Madison Fashion Week on February 23rd. While this is a volunteer/unpaid show, it may be a great way to kick start your exposure and build your resume for some of you newly signed talent who are just starting out.
CASTING FEMALES: Teens and adults
This casting will be held on Instagram. To be considered:
-Upload a clear, well-lit video of your runway walk in heels (Can be from a previous show or down a hall)
-Include your height & size/measurements in the caption
-TAG @mtm_mke and @modamuneca and use hashtag #WalkForMM
Must be reliable and have quick communication/follow up. Chelsea Stotts will reach out to you directly via Instagram if selected.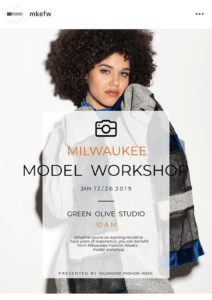 Want to learn the basics of modeling but just don't know where to start?? The experts of Milwaukee Fashion Week are excited to present a Modeling Workshop next month!! Details will cover runway, etiquette, avoiding scams & staying safe, and much more! Click here to register now at the discounted rate!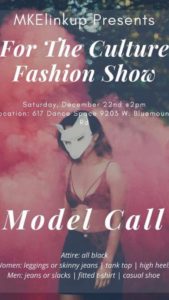 The For The Culture Model call is open to all men and women. The audition will take place on Saturday, December 22nd at 2pm, and will be held at 617 Dance Space 9203 W. Bluemound Road. Be sure to wear your standard runway attire, and come prepared. Check out this blog to make sure you know the do's and don'ts of runway auditions!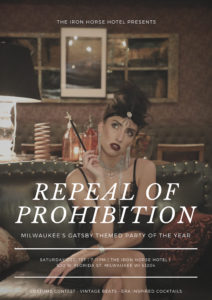 A little party never killed nobody…
In honor of the landmark decision that reinstated the great pastime of drinking 85 years ago, The Iron Horse Hotel is pulling out all the stops for its 10th annual Repeal of Prohibition Party.
Come dressed to impress in vintage flapper finery and gangster garb for a night of turning back the clocks and partying like it's 1933.
Guests will enjoy vintage beats by DJ Paul H, nickel beer taps from 7 to 9 p.m., house-made bathtub gin from an antique tub, era-inspired cocktails, a lavish costume contest for most fab flapper and dapper gent and plenty of risky/risqué business.
The event is hosted by the incomparable drag queen BJ Daniels. Get togged to the bricks, Milwaukee — it's time to get hot.
No tickets necessary! Just show up looking flapper or dapper. Use #IHHProhibitionParty on Instagram to get the full skinny on the latest happenings.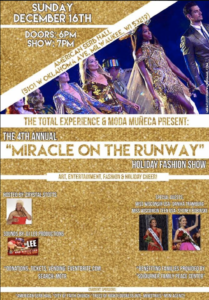 We can't wait to see this year's featured designs in Milwaukee's 4th annual MIRACLE ON THE RUNWAY. This Holiday Themed Fashion Show will feature collections by The Total Experience & Moda Muneca. Get your tickets here before they sell out!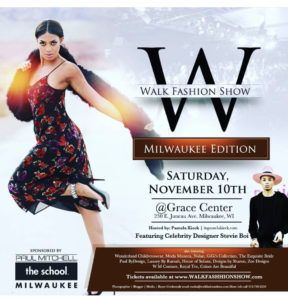 IT'S FINALLY HERE!
THE WALK FASHION SHOW WILL FEATURE SOME OF THE MOST BEAUTIFUL DESIGNS TO COME TO MILWAUKEE!
And, we can't wait to see you there! Don't worry, it's still not too late to get tickets. Click Here to get yours!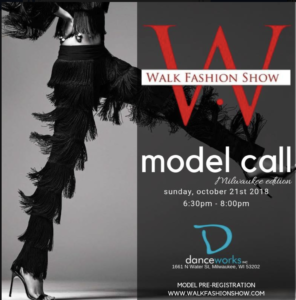 WALK FASHION SHOW  MILWAUKEE EDITION OPEN MODEL CALL:
Sunday, October 21st 2018
6:30pm – 8:00pm
Danceworks Studio
1661 N. Water Street
Milwaukee WI 53202
ATTIRE: ALL BLACK
Women: Skinny Jeans or Leggings | Tank Top | Stiletto Heels
Men: Jeans or Slacks | Fitted T-Shirt | Casual Shoe
Bring Head Shot or Comp Card ($20 Without)